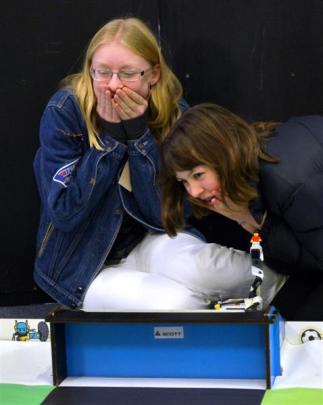 A Dunedin robotics competition attracted more entrants than its rival cities and had more girls making machines than boys.
Robocup Otago chairman Donald Liddell said 162 primary and high school pupils entered the Robocup Otago junior competition at Elim Church on Saturday.
The attendance was a record in the competition's eight-year history, he said.
The children competed for ''kudos'' and the chance to represent Otago at the nationals in Dunedin on September 13.
Robocup Junior national co-ordinator Sandy Garner said it was the first year girls had outnumbered boys at the Dunedin competition, with 82 girls and 80 boys entered.
The competition was held in six New Zealand cities, including Auckland, Wellington and Christchurch, and for the first time Dunedin fielded the most entrants, she said.
The competition provided a fun platform for pupils to develop programming skills.
''It gets them while they're still malleable and finding themselves.''
The ''easiest and the hardest'' of the three-competition section was ''theatre'', where robots performed onstage and ''rescue'' section robots had two minutes to save a rice-filled can.
Two teams in the soccer competition called it a draw when both robots malfunctioned. Year 12 King's High School pupil Philip Anderson (16), of Dunedin, said it was the sixth year he had entered the competition.
His robot's initial soccer performance was slow but reprogramming on the fly would increase its speed during the day. He hoped his future career would include programming and electronics.
''When it works it's very satisfying.''
Robocup official Sam Paulin (23), of Dunedin, said he represented Otago at the Robocup nationals in Auckland in his final year at Logan Park High School. The exposure to technology at Robocup helped him towards a career as a software tester at ADInstruments, he said.
''An introduction to this sort of thing at an early age - building and programming something for a purpose - is definitely helpful.''