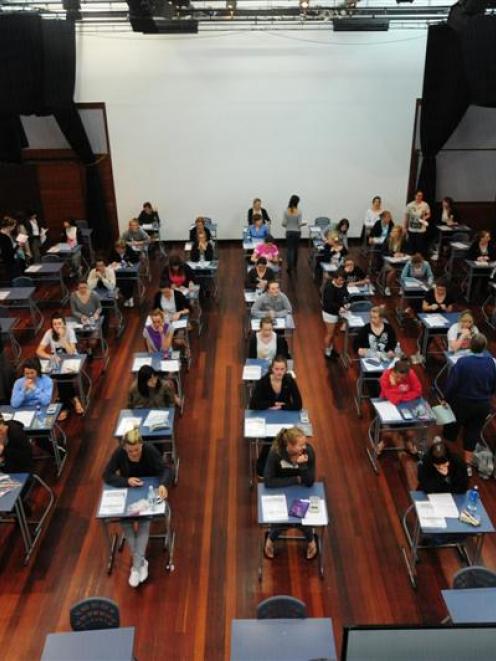 Pupils in Otago and Canterbury are more likely to get special support in NCEA exams than those in other areas, a new report says.
The analysis, by Dyslexia Foundation of New Zealand member Trevor Crosby, found there was no equity of access to special assessment conditions (SAC) in the existing system.
The highest percentage of candidates getting help in any region was in Canterbury at 4.8%
(785 pupils), while Otago was next on the list at 3.4% (205 pupils). Help was provided in these areas at about three times the rate it was in the Gisborne/East Coast and Taupo areas, which had the lowest proportion receiving SAC support, he said.
Mr Crosby's study followed an Otago Daily Times report in January drawing attention to the increase in the numbers of supported pupils after the recognition of dyslexia.
It also raised questions about equity of access between schools of differing deciles and pointed out the schools with the highest numbers of SAC candidates were private schools, a trend evident for some years.
Mr Crosby found the school with the highest proportion of SAC candidates last year was the private decile 10 King's College in Otahuhu, where almost a quarter of the 180 candidates (24.4%) received help.
He contrasted this with the neighbouring decile 1 Otahuhu College, where none of the 667 pupils sitting NCEA received SAC.
Wakatipu High School and East Otago High School both featured on a list of 10 state schools with the highest percentage of candidates getting SAC.
Wakatipu was second highest, with a tenth of its candidates getting help (33) and East Otago fourth with 8.8% (5 pupils).
No Otago private or integrated schools featured on the top 10 lists for those categories. St Peter's College, in Gore, was eighth on the integrated schools list, with 11 pupils receiving SAC (6.9% of candidates). Mr Crosby's report found high decile schools - those between deciles 8 and 10 - had SAC provided at about five times the rate of decile 1-3 schools.
As well as inequity between deciles, what was also striking was the large variation between schools of the same decile, he said.
All 40 decile 10 schools with NCEA candidates had some pupils with SAC support, but 36 out of the 40 decile one schools had no pupils receiving such assistance.
If there were equal access to SAC, based on the rate decile 10 pupils received assistance, about 270 decile 1 candidates should have had support last year rather than just four, Mr Crosby said.
Conversely, if the average decile 1 rate were applied to all deciles, then only about 100 candidates should have received support last year, rather than 3383.
The cost of a specialist report was likely to be the prime barrier to SAC access for candidates in lower decile schools, Mr Crosby said. The option of a school providing alternative evidence to get the support did not ''currently appear to be a realistic option to overcome the additional barrier of small school size where school staff may not have training for the tests required''.
Although the Otago Daily Times understands there is concern within education circles about the possibility of over-identification of pupils in some schools where there are high numbers of SAC candidates, Mr Crosby regarded this as ''most unlikely for a specific learning disability as psychologists have a code of conduct they must follow in reporting assessment results''.
Under-identification of candidates requiring SAC appeared to be the case for most schools through lack of financial resources and advocacy from parents, coupled with no dedicated funding of teacher time in schools to take care of moderate-needs pupils, he said.
Mr Crosby's report has been forwarded to the NZQA and Ministry of Education for consideration in the ministry's review of SAC announced earlier in the year.
His report did not attempt to provide solutions, but to provide background and demonstrate the wide variability, Mr Crosby said. He hoped it would help highlight areas for discussion and action.
The review by the two bodies is to cover equity of access, effectiveness of the support provided, the capacity and efficiency of systems managing applications and the impact of assistive technology on assessment.
Ministry of Education group manager special education Brian Coffey, in a statement responding to questions, said the SAC review would be finished at the end of August.
The review team had not made any comment on Mr Crosby's report, he said.
There would be no change to the SAC process this year, he said.
---
At a glance
Special assessment conditions (SAC):
• Support granted by the New Zealand Qualifications Authority to NCEA candidates of at least average intelligence who have a physical, medical or learning disability and meet certain criteria.
• The purpose is to allow candidates to demonstrate their knowledge, skills and understanding without unfair advantage over other candidates.
• Could include reader/writer help, separate accommodation, extra time to complete the exam or the use of a computer.
• Applications for SAC must be supported by an independent report from an ''appropriately qualified registered professional'' or alternative evidence considered by an NZQA expert panel.
• For external exams, NZQA pays for reader/writers and supervisors for candidates in separate accommodation, contracting supervisors for hearing-impaired candidates, extra papers and Braille papers. Schools meet the cost of supporting SAC candidates in internal assessments.
• Last year, 3418 pupils received SAC support in 328 schools. Cost to NZQA: about $433,000.
---