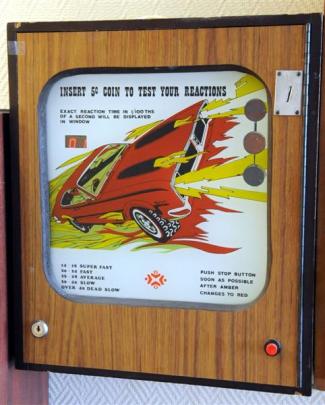 Dunedin Magician Jonathan Usher is a kid at heart and has a collection to prove it.
About 15 years ago he bought his first arcade pinball machine, a Doctor Who model which brought back happy childhood memories.
Since then Mr Usher, in his early 40s, has obtained a few more.
He now owns six pinball machines, including a Cirqus Voltaire which is believed to be one of just two in New Zealand.
''I used to play them as a kid and I really like them - I like old things,'' he said.
Most recently he bought a Theatre of Magic machine, in a nod to his tricky pastime.
Mr Usher also manages six Z service stations in Dunedin, Palmerston and Oamaru, and his arcade games take pride of place in his new central city office.
A retro, bright yellow Shell Diesoline fuel pump stands by the door and a custom Doctor Who Dalek occupies a corner space next to a red vinyl chair set.
''I love collectables and as for the games, they are ones I've played at various places growing up in Dunedin. I just think they are quite cool,'' he said.
Mr Usher also remembers playing flip ball games as a child when they were commonly found in fish and chip shops.
His collection includes five of the wall-mounted machines, which he feeds old coins into.
Many were discarded and smashed at rubbish tips in the 1980s because at the time they were thought to encourage gambling, he said.
Not deterred, Mr Usher also has three pokie machines.
''They are quite collectable and if I wanted to sell them I would have no trouble getting rid of them. I get them in good nick because I don't have the talents to fix them myself, but there are a couple of guys in town that help me if one of the machines isn't working,'' he said.
Mr Usher describes online auction sites as a ''curse'', given his impulsive nature.
''I just see something and buy it, then worry about where to put it.
''As circumstances allow I pick up more things, but I don't have the money or space for 30, 40 or 50 machines like some people,'' he said.
His machines are all in working order and come in handy at parties or on other occasions when guests can be entertained for hours.
Those not enamoured by the arcade games may instead enjoy some of the other quirky items on display in Mr Usher's office.
They include a wall-mounted cow's head from an old Arrowtown pub and a stuffed rabbit complete with a miniature gun.
''Every magician has to have a rabbit,'' he said.
Most items in Mr Usher's collection date from the early 1970s to 1990s but a few are more modern.
He has a rugby ball used in the game between Ireland and Italy played at the Forsyth Barr Stadium during last year's Rugby World Cup, and a piece of the Carisbrook goal post which once blew over in stormy conditions.
There are also a couple of signed football jerseys hanging on his office wall above an old pay phone, and many more items at his home, including table soccer and Space Invaders games.
''I've even got an old dentist's chair at home. When I bought it, the horrible x-ray machine came with it as well,'' he said.
Mr Usher would like to think he has enough bits and pieces, at least until the next arcade game takes his fancy.