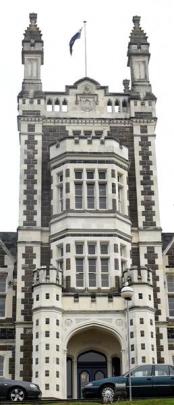 In this commentary, a bemused Craig Borley wonders why so many questions have been left unanswered over Dunedin's Law Courts, deemed too dangerous for occupation.
If anywhere in New Zealand deserved a ''City of Stone'' moniker, it would be Dunedin.
''City of Spires'' would be accurate, too.
And as often as not, the two combine - stone towers and spires 100 years old and more are common sights from almost every vantage point across the city.
Such stone structures carry heightened earthquake risks - they can topple and crumble and no-one would think that risk is arbitrary.
However, when the ODT looked at what it thought were the seven most recognisable and treasured of Dunedin's stone towers, it found only one had been declared ''too dangerous for occupation'' by its owners.
Only one had a proposed price-tag for strengthening work ''north of $10million''.
And only one was the responsibility of the Ministry of Justice: Dunedin's historic Law Courts building in Stuart St.
So what could possibly drive the price of earthquake strengthening the Law Courts so high?
It is impossible to say for sure, as the ministry is guarding its secrets closely: the scope of the proposed work; the timeline of proposed work; whether the ministry intends to do any work at all or instead vacate the building for good; what their engineers have found that makes the building - undamaged in its 113-year history and sitting in one of New Zealand's lowest-risk cities for earthquakes - so dangerous.
Perhaps the biggest secret is why any of the above questions are secrets at all.
What is not a secret is what is happening at Dunedin's other six stone towers the ODT looked at this week.
Two are council-owned, two church-owned.
The other two are education facilities.
All have considerable foot traffic passing under their towers or spires each week.
But none have been mothballed for safety reasons.
All have been assessed, at some point, for their earthquake risk.
All have had, or will shortly have, some level of strengthening work done.
That work is never cheap.
While commercial sensitivities stopped those building's owners giving precise figures for strengthening work completed or proposed, all scoffed at the idea their bill was comparable to the ministry's ''north of $10 million'' figure.
Most believed the work to be ''south'' of $1million.
Despite an admittedly small sample size, Dunedin's six other stone towers tell a story.
That the city is built largely of stone, it always has been, and as far as Dunedin people are concerned, that should not stop it functioning.
The ODT told the Minister of Justice it was running this article, and asked for updates to timeframe and costing information, and for a commitment that court services would one day return to the Law Courts.
Unfortunately, but perhaps not surprisingly, given the scarcity of details so far publicly provided, the minister was unable to add any new details to those mysteries.
The ODT also asked for an explanation to the fundamental question: why is the Law Courts building being treated so differently to the city's other comparable buildings?
The minister referred that question to the ministry.
The ministry responded late yesterday to questions the ODT asked earlier in the week involving the courthouse.
That response included an engineering report detailing the courthouse's low seismic rating, where part of the historic courthouse scored 15-20% of new building standard - well short of the required 34%.
It also reiterated its position that the ministry ''takes its health and safety obligations seriously, so in the interests of the safety of court users, ministry employees, the judiciary, lawyers, etc we decided to temporarily close the historic Dunedin Courthouse and move operations to an alternative site''.
In response to why Dunedin's other stone towers remain open to the public, the ministry said it could not comment on the decisions of other organisations.
---
First Church of Otago
Completed: 1875
Seismic assessment: Completed 2015
Construction: Brick, faced with Oamaru stone
Tower height: 56m
National building standard rating: Yet to be released
Status: Occupied
---
Dunedin Law Courts
Completed: 1902
Seismic assessment: Completed
Construction: Port Chalmers breccia, with Oamaru stone window framing, parapets and pinnacles
NBS rating: Unknown
Status: Not occupied
---
Dunedin Railway Station
Completed: 1906
Seismic assessment: Detailed assessment under way
Construction: Kokonga basalt, Port Chalmers basalt, Oamaru stone dressings, Scottish granite, Marseilles tiles
Tower height: 37m
NBS rating: Not yet known
Status: Occupied
---
Otago Boys High School
Completed: 1885
Seismic assessment: Completed
Construction: Leith basalt, Port Chalmers breccia, Oamaru stone
NBS rating: Above 34%
Status: Occupied
---
Otago University Clock Tower
Completed: 1879
Seismic assessment: Completed
Construction: Leith Valley andesite, Oamaru stone, Port Chalmers bluestone
Tower height: Unknown
NBS rating: 45%
Status: Occupied
---
Municipal Chambers
Completed: 1880
Seismic assessment: Completed 2013
Construction: Port Chalmers stone, Oamaru stone
Tower height: 47m
NBS rating: 70%
Status: Occupied

---