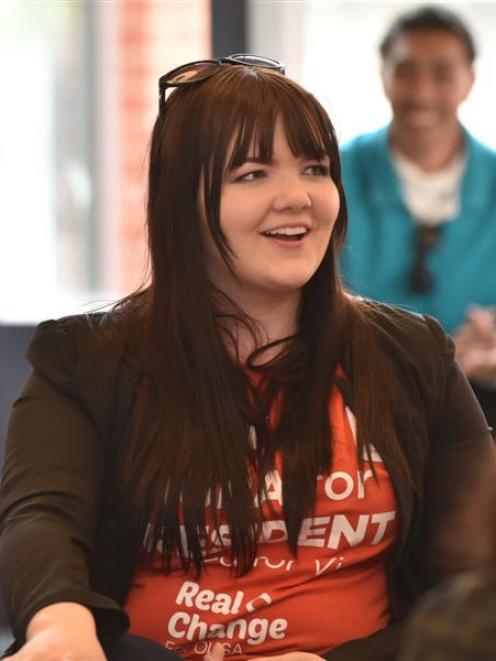 Laura Harris was last night ''ecstatic'' about being elected president of the Otago University's Students' Association.
''An accessible, vocal executive is going to make a world of difference for OUSA.''
Ms Harris ran on a ticket with eight other candidates, which the group labelled Real Change for OUSA. Seven of the Real Change candidates were elected for the 2016 executive.
She won by eight percentage points over current president Paul Hunt, who got 27% of the vote.
Mr Hunt ran on a ticket with Bronwyn Bailey, who lost her bid for the vice presidency to Real Change candidate Jarred Griffiths.
He might have lost because he did not have ''a strong enough presence on campus'', Mr Hunt said.
''My presidency has focused on a lot of issues that are not necessarily exciting or media friendly.''
He wanted to give ''a big congratulations to Laura and Jarred, who ran a very strong campaign''.
''It was obviously a tough process for all involved.''
Payal Ramritu and Nina Harrap also ran for the presidency, and won 10% and 21% of the vote respectively.
---
2016 Executive
President, Laura Harris; vice president, Jarred Griffiths; finance officer, Jesse Hall; colleges officer, Bayden Harris (ran unopposed); recreation officer, William Guy; campaigns officer, Sean Gamble; international officer, Rachel Goh (ran unopposed); postgraduate officer, Mariana Te Pou (ran unopposed); welfare officer, Bryn Jenkins; education officer, Alexia CochraneTe RoopuSecretary, Grace Williams (ran unopposed); cultural and education officer, Francis Bradley (ran unopposed); Tumuaki (president), Robert Pomare (ran unopposed).
---