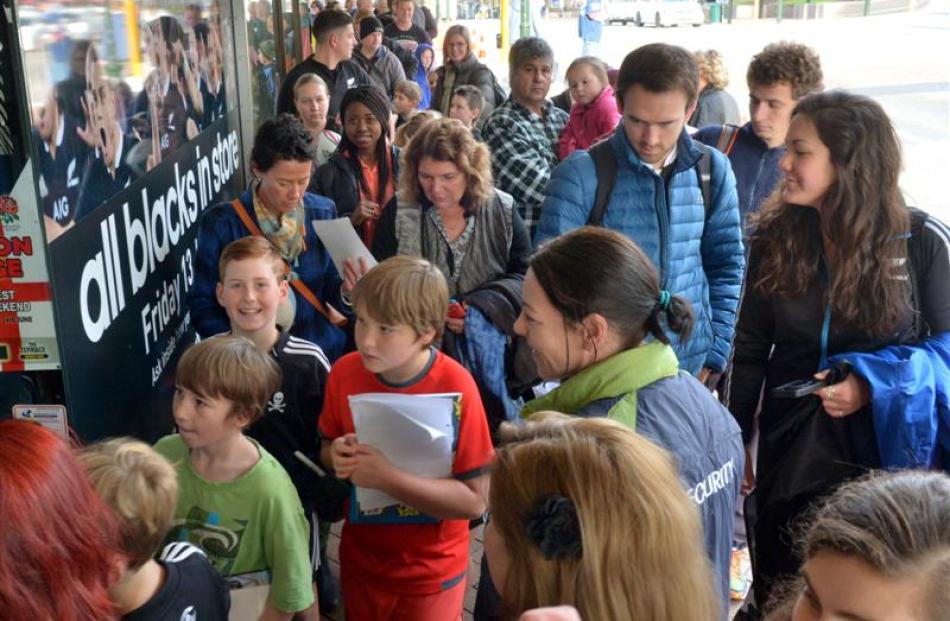 Dunedin's Forsyth Barr Stadium will finally be in the black today.
For a day, anyway. The All Blacks may have been rusty last week, but their well-drilled marketing machine didn't drop a ball yesterday in the build-up to the second rugby test between New Zealand and England.
Dunedin buildings, businesses and schools were festooned with black and white balloons, banners and bunting encouraging the boys in black to bounce back.
About 400 fans queued for up to half an hour outside a Dunedin retailer to meet All Blacks Richie McCaw, Liam Messam and Dominic Bird.
Two of the most excited fans were not even New Zealanders.
''It is very exciting for us to meet the All Blacks,'' French tourist Sarah Prabonnaud (26), of Brittany, said after getting a photo taken with the trio.
''We have got our tickets for the match and we can't wait,'' Krystele Collette (25), of Paris, said.
''We want the All Blacks to win, of course.''
It took a brave man to invade enemy territory in an England shirt, but Sam Fussey (23), of East Yorkshire, was up to the task.
''I really think England are going to do it this time,'' he said in the Octagon yesterday.
''We were unlucky last week and this match I think we'll sneak through.''
Surprisingly, even the Scottish Shop had a large St George Cross in the window.
''We did think about just putting a minuscule St George flag up, but we sell flags, so we thought we'd better put a big one up,'' assistant Eleanor MacGregor admitted.
Mornington School raised $300 for a children's charity with an All Black Friday mufti day.
''We wanted to show our support for the team and do something to help other people and KidsCan is a good charity,'' principal Brent Caldwell said.
Just down the road, Arthur Street School teacher Sandra Darracott, of Bletchley, was in a class of her own and an England scrum of one.
''It's all in good humour. I only wore it because I knew everyone else would be in black,'' she said.
''But I think the All Blacks will definitely win. They're the best team in the world.''
A corporate lunchtime audience at Forsyth Barr Stadium then got an insight into some of the technical thinking behind the All Blacks' success.
''I thought we might try to catch the ball this week. That might help,'' assistant coach Ian Foster revealed.