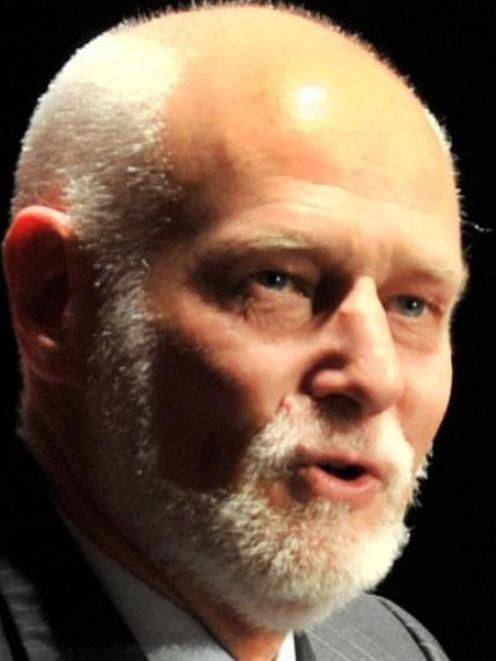 Southern councils have reached across the political divide by recruiting former Dunedin MPs Pete Hodgson and Katherine Rich to the fight to save 85 jobs at Invermay.
Mr Hodgson, speaking to the Otago Daily Times yesterday, warned the lessons of history showed AgResearch's planned job cuts at Invermay were ''a grave strategic error''.
Mr Hodgson, the former Dunedin North Labour MP, was the minister responsible for CRIs, including AgResearch, under former prime minister Helen Clark.
Former Dunedin-based National list MP Katherine Rich's father, Dr Jock Allison, is a former director of Invermay.
Both former MPs were yesterday named as members of the working party finalising a counterproposal for Invermay, to be presented to the AgResearch board and Economic Development Minister Steven Joyce.
Dunedin Mayor Dave Cull yesterday said initial talks had been held with AgResearch representatives, and a four-strong delegation of southern councils would meet Clutha-Southland MP Bill English in Balclutha on Friday.
That delegation would feature Mr Cull, Otago Regional Council chairman Stephen Woodhead, Environment Southland chief executive Rob Phillips and Clutha Mayor Bryan Cadogan.
However, the working party's final proposal would not be presented to the AgResearch board until late next month, and to Mr Joyce some time after that, Mr Cull said.
The counterproposal would be based on input from more than 50 delegates from organisations across the lower South Island, gathered at a summit held in Dunedin earlier this month.
The meeting was called after AgResearch unveiled a proposal to shift 85 jobs from the Invermay agricultural research centre to either Lincoln or Palmerston North by 2016.
Mr Cull said the counterproposal being prepared would show AgResearch's plan was ''strategically damaging both to the region and the national economy''.
''Many see Invermay as integral to Dunedin's economic development strategy, and its loss would have a major impact on the wider regional economy.
''If they take away the sort of infrastructure and services offered by Invermay, they erode our research and economic base and we have nothing to build on.''
The recruitment of Mr Hodgson and Mrs Rich brought ''valuable experience'' to the working party, Mr Cull said.
That included a six-year stint by Mr Hodgson as CRI minister, during which AgResearch closed its Wallaceville research centre in Upper Hutt in 2004.
Dunedin was supposed to benefit from that restructuring, with up to 26 jobs coming south, but Mr Hodgson said yesterday the move had proven to be ''substantially unsuccessful''.
That was because many of the scientists did not want to relocate and instead opted for other roles.
That was a concern raised again with AgResearch's latest plans for Invermay.
''The expectation that people would shift [from Wallaceville] was not met, and, frankly, there are some lessons to be learnt from that event.
''It was way short of a success and lessons ought to be learnt from that,'' he said.
Mr Hodgson said he was initially ''simply bemused'' by the latest restructuring proposal, but his stance had shifted to ''strong opposition'' while researching the counter-proposal for the working party.
He was reluctant to detail his advice to the working party, but insisted the restructuring would be a ''grave strategic error'' with implications for the region's primary production and scientific research sectors.
Mr Cull said the counter-proposal would outline opportunities to enhance Invermay, rather than downsize it.
Mr Woodhead said the meeting with Mr English on Friday would be a ''general discussion'' about southern concerns while the minister was on a visit to his Clutha-Southland constituency.
''It will be the first opportunity we've had to have a face-to-face discussion with Bill [English] over this issue.
''We're just taking that opportunity.''