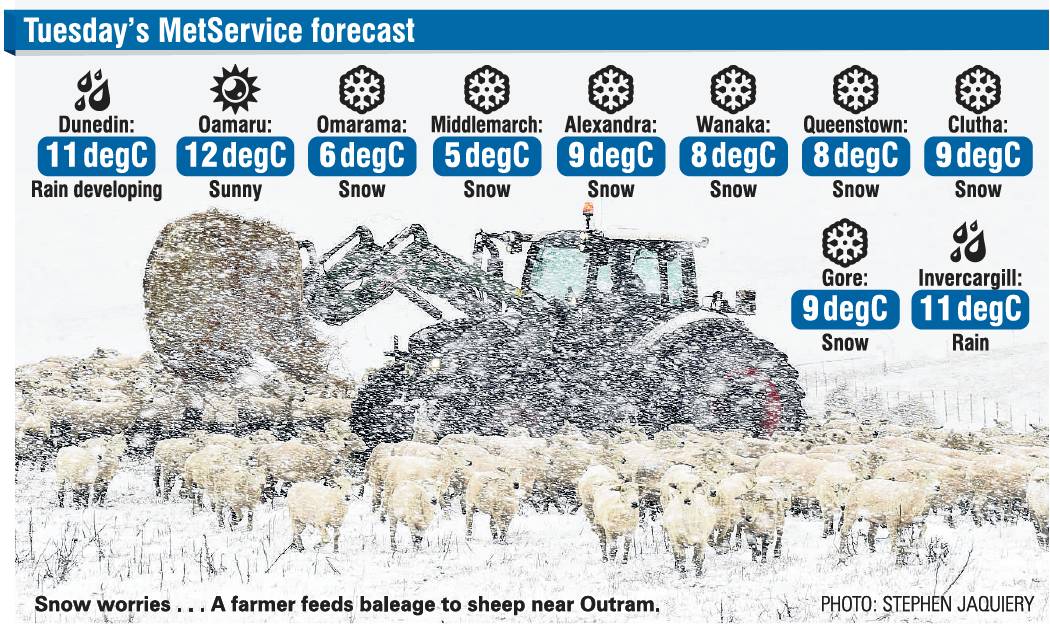 Grab your winter woollies — our first taste of winter is about to arrive.
Bitterly cold and wet weather, possibly even heavy snow down to 300m, is forecast to hit Otago and Southland on Tuesday morning.
Temperatures are unlikely to hit double digits for most of the southern region.
MetService meteorologist Kyle Lee said a front, preceded by strong northwesterlies, was expected to move over the country from the Tasman Sea late on Monday.
It would then be followed by colder southwesterlies on Tuesday, bringing snow to low levels in the south of the South Island.
"There's an initial pulse that goes over the very far South and it does look like there will be snow at this stage, down to 300m for Fiordland, Southland and Clutha.
"And we're looking at about 500m further inland, for the likes of Central Otago and the Southern Lakes area.
"It will be the lowest snowfall we've had so far this year.
"A lot of those southern areas are looking like they are going to be on the below average side of the maximums. A lot of them will struggle to get into the double digits, for sure."
He said it was still too early to say if the Dunedin hill suburbs would receive any snow.
"We usually only talk about anything in the urban forecast when snow is expected below 300m. We're sort of on the cusp of that.
"It's something to keep an eye on nearer the time, because that could change. If the snow level does lower, there's definitely a chance of snow in the hill suburbs.
"In the next few days, we'll fine-tune that forecast."
Mr Lee said if snow did fall down to 300m inland, it would affect a lot of roads around the region, especially the higher routes.
"I expect it to cause some form of delays and affect a few higher roads, specifically in the Central Otago region. But at this stage it's hard to pinpoint which regions or exactly which roads we think will be affected."
He advised farmers to keep an eye on the forecast to see how it develops, because they might need to move stock to more sheltered areas.
"If they can, they should be prepared to act accordingly to whatever advice is given."