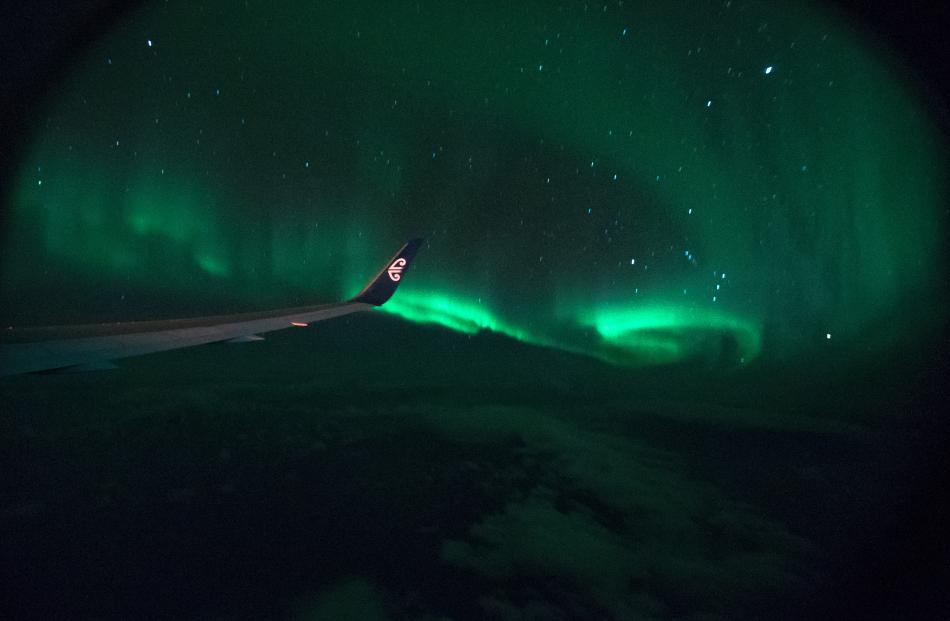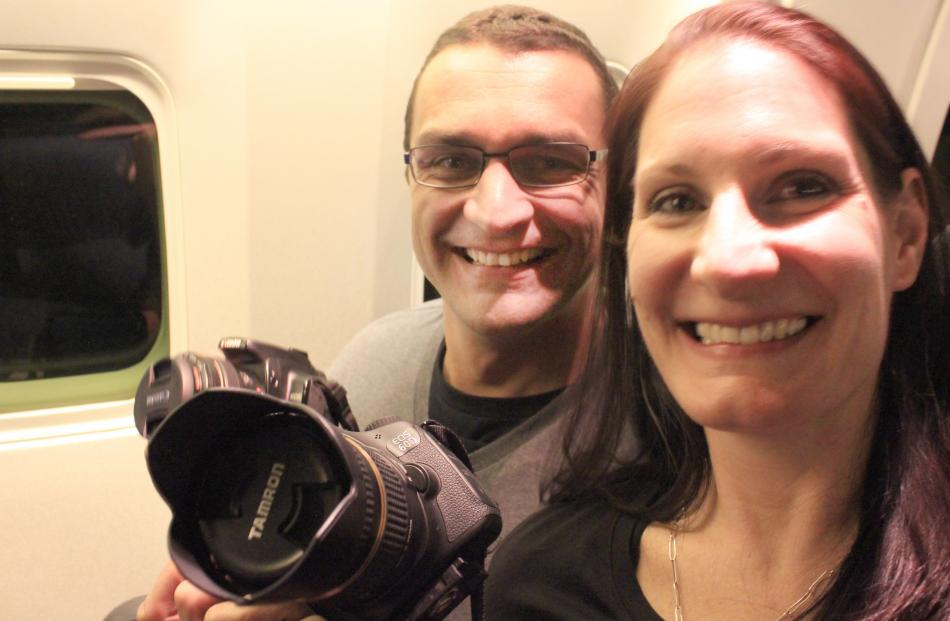 As the clock struck midnight, Frith Walker quietly sang happy 60th birthday to herself.
She was in the back row of the Boeing 767, which took about 150 lucky people to within an iceberg of the Antarctic, to see the aurora australis on Thursday night and yesterday morning.
Seeing the spectacular light show was the greatest birthday present she had ever received, she said.
But perhaps one of the things that made the milestone even more memorable, was that the plane crossed the International Date Line soon after midnight, and the Papamoa Beach resident became 59 again, which pleased her no end.
"It gave me a chance to get used to turning 60 again. It's not often you get to turn 60 more than once in your lifetime.
"I sang happy birthday at midnight, and then I had to sing it again when we crossed back over the date line. It was fun. This is the best birthday present ever," she said.
The flight was the initiative of Otago Museum director and former Nasa Space Telescope Science Institute public outreach head Ian Griffin, and was the first of its kind in the southern hemisphere.
It was only about an hour into the flight when the first excited call came.
"We've got pickets — pickets everybody — on the right side of the plane."
Pickets are just one of several shapes auroras can take, and look a little like a picket fence in the sky.
There were also great views of curtain auroras and some arcs during the flight.
After the first call, all 150 on board started rubber-necking out the windows.
And from then on, there were coos of glee for several hours.
For most, it was their first, up-close-and-personal look at the aurora australis.
Both young and old were kept spell-bound by the views.
Brother and sister Elliot (18) and Harriet (14) Cottle, of Dunedin, said it was a fantastic experience.
"Not many people in the world get to see this — it's a once-in-a-lifetime opportunity. I think if something like this pops up, you should definitely go," Harriet said.
The siblings said their mother bought tickets for them after hearing about the flight.
"Mum saw it and she was completely keen on it," Elliot said.
"She really likes us to experience new things and see as much of the world as we can, while we're still young."
News of the flight spread around the world, and attracted passengers from as far as South Africa.
Adriaan Prinsloo and wife Rosalyn Charlton said seeing an aurora had been on their bucket list for years, but to date, they had not had any luck seeing one.
"Every time we've tried, we haven't managed to see one," Ms Charlton said.
"We were in Tasmania a couple of months ago, trying to see it, and Queenstown before that. But it always seems to be raining or it's cloudy.
"This is a dream come true for us. The next stop for us will be the Northern Lights."
While some were happy just to gaze out their windows, others brought high-tech camera gear to capture the moment.
In an age where most photographers opt for the latest gear, which will capture images almost automatically, Rene Burton, of Auckland, said he needed more of a challenge.
So he decided to attempt to photograph the aurora australis with a 1950s Graflex Press Camera.
Why? Because the Graflex would take photos with much more detail, he said.
"You couldn't match this resolution with a digital camera."
How did his photos turn out?
"You'll have to wait until I develop the plates. I've got my fingers crossed."
Dr Griffin said he was delighted with the flight.
"We've seen the aurora, we've been into the auroral zone, and we've got some lovely pictures. Talking to the people on board, I think it's been a complete success."