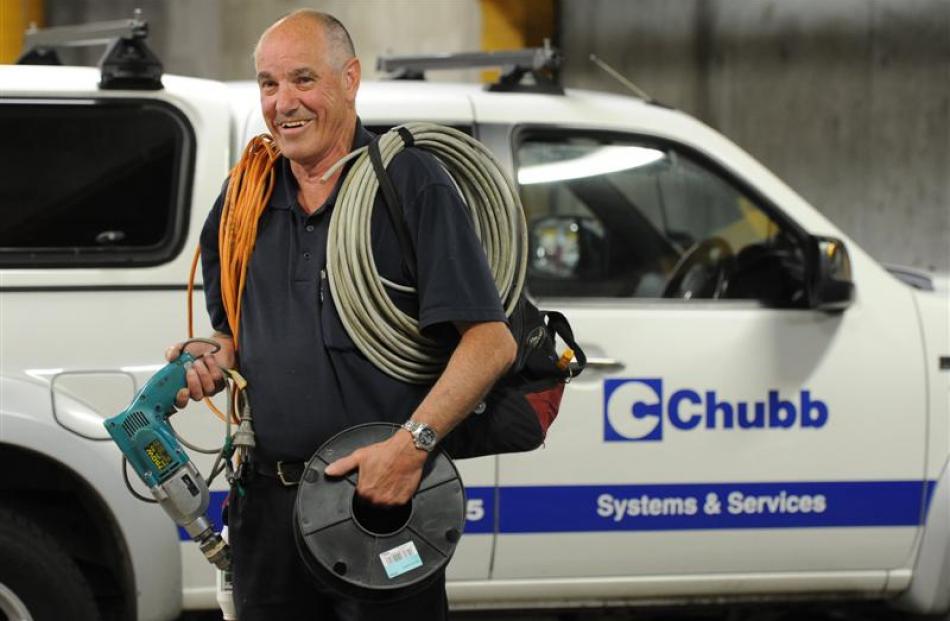 John Young has seen some strange things in 49 years in the electrical game. Like the time a severed human hand was thrown at him at a job.
''We were putting a sprinkler system in the medical school and a medical student yelled out from a couple of floors up, 'Do you want a hand?' and then he dropped a real hand down to us,'' he recalled this week. Mr Young retires today from the only job he has ever had, at Chubb New Zealand Ltd.
''I just fell into it, really. It's the only thing I've ever done.''
Mr Young left school and went straight into an electrical apprenticeship at A. and T. Burt, as it was called then. The workshop was located where the Dunedin Central Police Station is now.
''There have been lots of changes over the years. Mainly in the way we do things and the technology.
''When we used to wire a house, we'd drill the holes for the wiring with a brace and bit. We don't do that any more,'' he said. Most work then was contracting.
''You'd be on a site for years, sometimes. I spent six years at the hospital, working on the new block.''
For the past 25 years, Mr Young has mainly worked on Dunedin City Council maintenance projects, at the town hall, library and community halls.
He has plenty of plans for retirement, which include reducing his 9 handicap.
''I'll be playing a lot more golf and spending a bit of time in my caravan in Cromwell.
''There are also a few projects around the house that I've been putting off till now.
''But I'll miss the guys and all the abuse they chuck at me for being an old guy. They'll have to find someone younger to pick on now.''