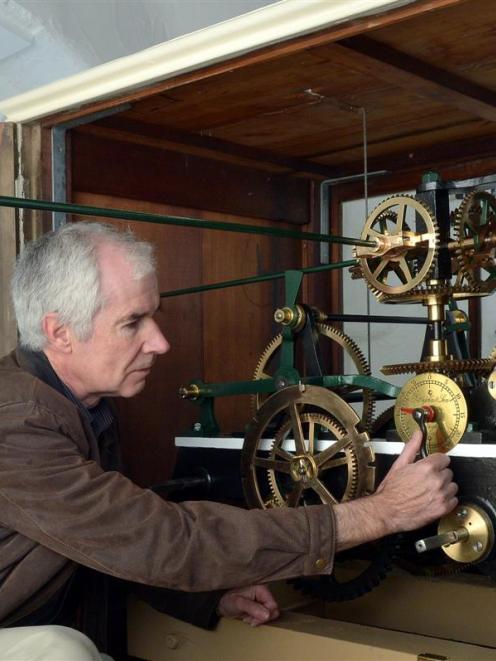 The striking of regular chimes around Port Chalmers from the restored Iona Church clock is again setting the pulse of the small harbour town community.
Octa Associates director David O'Malley, the project manager of the church restoration, said the clock restarting yesterday signalled the end of the church's first restoration stage.
Nearly $1 million had been spent since the restoration started in March last year and he was ''immensely proud'' of the work completed.
''To bring the old girl back and work on it so it's seismically upgraded and waterproofed has been a great experience. It's a tremendous community building and shows what can be done to save our heritage,'' Mr O'Malley told the about 40 people at the clock-starting ceremony.
Mr O'Malley praised the efforts of stonemason Marcus Wainwright, carpenter Wayne Myers, glazier Peter Mackenzie and horologist Jeff Martin.
Mr Martin said the clock - made by Little John and Co, of Wellington - was installed about 1885 and represented fine Victorian engineering.
However, when the wind ''whistles up the harbour for three days'' the clock can stall from wind pressure and then require a visit for restarting.
The clock struck on the hour and needed to be cranked weekly.
Historic Iona Church Restoration Trust chairman Andrew Noone said the clock's restoration was funded by Dunedin City Council because the city owned the clock.
''It was gifted to the borough many moons ago,'' he said.
Dunedin Mayor Dave Cull said although many now might consider a church clock a ''quaint folly'', when it was installed it was a public amenity the port townsfolk relied on.
''It was genuinely needed, appreciated and utilised by the community.''
The clock bell strike was designed to be heard within ''a mile'' in any direction.
''At the time, a lot of people wouldn't have had watches and wouldn't have known what time to knock off for smoko - or whatever - the clock here did the job,'' Mr Cull said before pulling a ribbon bow undone to signal restarting the clock.