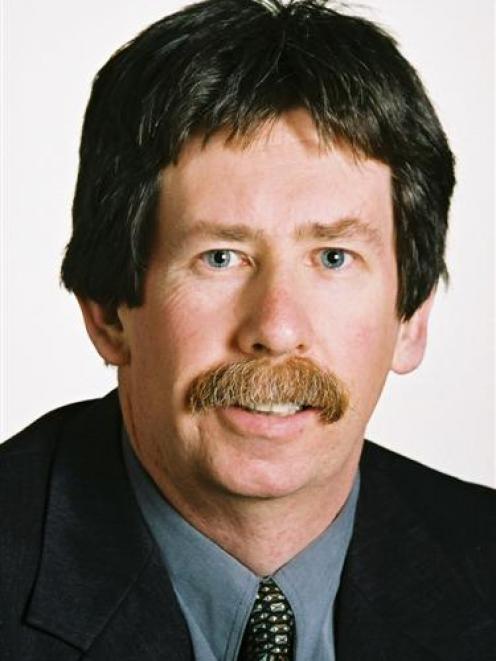 The Otago District Health Board's version of how the Swann-Harford frauds took place and were undetected for so long includes a suggestion that Audit New Zealand auditor Bruce Robertson was warned off doing a full audit of the information technology department.
It was claimed the fraud was so carefully constructed that when the board laid its concerns before the police they did not believe there was a case and declined to take action.
It was only the board's lawyer's "personal involvement" with the Serious Fraud Office, which allowed her to approach that office directly, that resulted in an investigation.
The board's version of events is contained in a briefing paper presented to Health Minister Tony Ryall on the $16.9 million fraud, for which both Michael Swann and Kerry Harford have been convicted.
They are in custody, awaiting sentencing.
The paper, presented by chairman Richard Thomson to Mr Ryall at a background briefing a week ago, was released to the Otago Daily Times under an Official Information Act request this week. (Chief executive Brian Rousseau was also present at the briefing.)

The paper was in the form of a PowerPoint presentation and further explanation was given verbally to the minister on some matters.
Swann, the board's chief information manager, and Harford, his friend and business associate, defrauded the hospital board over six years by claiming for computer-related services never provided.
The revelation from Mr Robertson, described in the paper as a former board auditor, appears to have been made to Mr Rousseau after the fraud was discovered.
The briefing paper states Mr Robertson, when he sought to do a full audit of the information technology department, was told by then financial officer Ewan Soper that "he was keeping a close eye on Swann and to stay out of it.
He obliged and did not bring this to the attention of the chair or CEO". No date for this event is given.
In the paper, Mr Thomson reiterates his public stance that he acted as soon as concerns were raised with him, and says those who had reason to believe Swann was dishonest and took no action "failed a simple civic duty".
The paper refers to auditors (internal and external) being aware of Swann's past alleged dishonesty but not raising it with him or Mr Rousseau.

(The paper does not state the origin of this awareness.)

Under a heading "Why did it take so long to catch?" the paper refers to "two former employers of significant stature" who chose not to prosecute Swann or disclose his earlier alleged dishonesty.
Outlining the history of the fraud, Mr Thomson said former Healthcare Otago chairman Ross Black was advised by letter in July 1998 - two months after Swann was employed as the information technology manager - that Swann had allegedly been involved in several instances of outright dishonesty and that he was an improper person to hold such a position of responsibility.
No pre-employment checks were done on Swann, the paper says.

Mr Black said he had legal advice that Swann could not be sacked or formally investigated on the basis of that letter, but that he informed then acting chief executive Bruce Gollop and Mr Soper of the letter's contents, the paper states.
Mr Black instructed Mr Soper to monitor Swann closely and said he instructed him to inform the auditors, the paper states.
Swann was advised by Mr Soper of the contents of the letter. Mr Black decided not to inform the board about the letter and it was not placed in board records.
"Soper does not inform the auditors (although Black says he instructed him to - this only emerges post-trial)," Mr Thomson said.
Several reviews and reports on the board in 2002 and 2003 which failed to show any concerns about information technology spending are listed in the paper.
In 2002, Pricewater- houseCoopers was engaged by the Ministry of Health to do a full review of the financial and operational status of the board.
This review team included Mr Gollop.
In August 2003, the ministry appointed Warren Young as a consultant to review spending and advise the board. After an extensive review, he found nothing of concern in the information technology (IT) department.
In December 2003, the board sought information to check its level of spending on IT.
Mr Rousseau reported in February 2004 that, using the ministry's review data, it could be seen the board's investment was average and could possibly be increased.
Mr Thomson said the information available to Messrs Black, Gollop and Soper about Swann was not passed on to him after he became district health board chairman at the end of 2001, or later to Mr Rousseau, who joined the board in 2003.
Mr Thomson refers to an "acrimonious debate" at the first meeting of the new board in February 2002, when board members questioned a $400,000 budget over-run in IT costs.
At that meeting, the briefing paper states, Mr Soper, who is described as the only person present with reason to be suspicious of Swann, advised the board it was due to under-budgeting personal computers by $250,000, and made it clear the board "lacked the history and understanding that he had".
Once Mr Soper left the board's employment in October 2003, no-one on the board was aware of the warnings given regarding Swann, Mr Thomson said.
"Finance staff lacked the ability to argue IT issues with Swann and so accepted what they were told.
"Some concerns were apparently raised with Soper's successor, Arlee Folker, but she took no action and those raising the concerns did not take them past her to the CEO. We only know that now."
When Mr Rousseau was appointed in 2003, he had inherited an existing budget structure.
In his briefing by the previous chief executive Prof Bill Adam, Mr Rosseau was "informed that Swann was a wheeler-dealer, was independently wealthy, and did this job because he loved computers and the DHB was the biggest computer game in town".
The paper stated Swann made IT savings that he then converted into further fraud.
This meant there was no increase in the department spending to match the theft that might have alerted the board.
"There were no significant unexplained variances against budget that might have prompted further concern.
"Although many now claim to know he was a crook, nobody approached either myself or the CEO with any concerns until the approach to me in February 2006. It appears that his actions resulted in suspicion by very few and action by no-one till then.
"Although both internal and external auditors were (we know now) aware of Swann's shady past, they never raised issues with IT spending."
Swann's best camouflage was the fact he never tried to hide his wealth and people believed it was honestly obtained, Mr Thomson said.
When issuing the paper, Mr Ryall advised he had withheld the amount of a settlement made with Harford, which was in the original version of the paper, at the request of the district health board, as he had been advised it was a confidential settlement.