More than a billion dollars of the Government's sometimes controversial Provincial Growth Fund has been allocated, but only a small fraction has gone towards projects specific to Otago and Southland. Is the South missing out or is it a case of wait and see? Reporter Tim Miller talks to the man in charge.
There is more to come.
That is the message to southerners from the man behind the $3billion Provincial Growth Fund.
Regional Economic Development Minister Shane Jones was in Otago yesterday to announce an additional $7million for the region, most of which will go towards a cycle trail between Lawrence and Waihola.
The minister also toured Farra Engineering in Dunedin, which was given $200,000 last year to complete a feasibility study on an engineering hub in the city.
Officials were now examining the study but any announcement was still at least a couple of months away, Mr Jones said.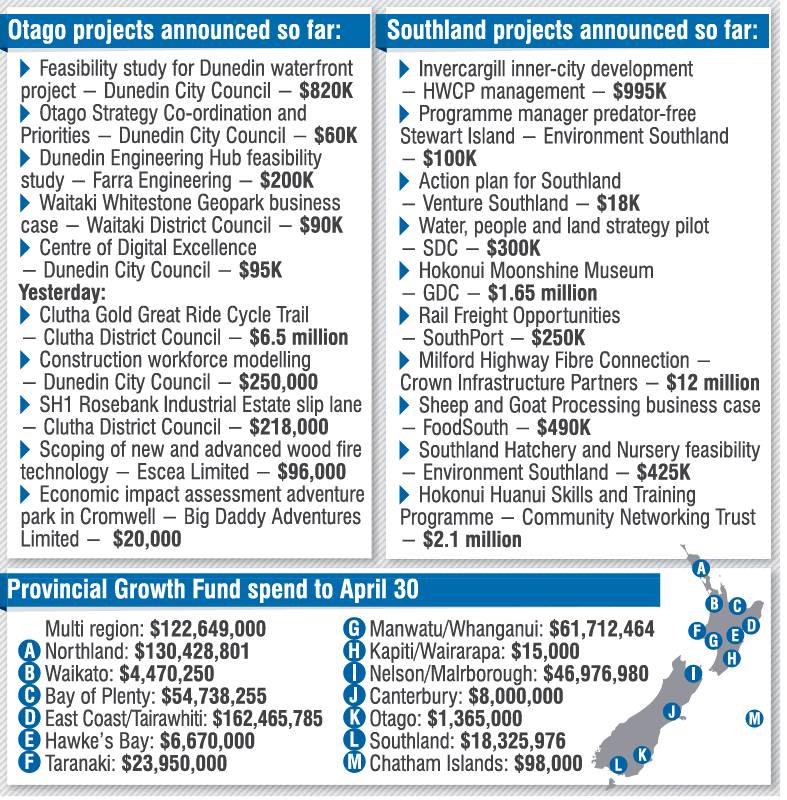 After yesterday's announcement, projects specific to Otago have only received about $8.4million and much of that was for feasibility studies and business cases.
Southland fares a little better with $18.3million but pales in comparison with places such as the West Coast ($128million) and Northland ($130million).
Southerners should not worry, and their share of the money was coming, he said.
One sector the Government was particularly interested in investing in was Dunedin's engineering industry and he hinted at some possible good news in next week's Budget.
"I can't go into any detail, because it's against the rules for me to blab about the Budget, but already $260million has gone into KiwiRail.
"It's up to the treasurer to announce any additional putea but both parties, Labour and New Zealand First, campaigned that Hillside won't become redundant, if you get what I'm saying."
Economic Development Minister David Parker, in particular, wanted to see money from the growth fund invested in engineering projects in the South, Mr Jones said.
Dunedin's bid for a slice of the fund to go towards the city's waterfront development plan was still being considered and the minister was not prepared to put a date on any announcement.
"Obviously you could not help but be taken by the imagination shown, but now it's with the officials and various proponents about where the fiscal ball bounces."
Outside of Dunedin, there were some exciting projects which were still being refined but Mr Jones was adamant Otago's more rural areas would not miss out.
"I've given a commitment to go and visit the Waitaki and have a look around and discuss some of the exciting ideas they've got down there."
All funding decisions still had to be run past his Cabinet colleagues Mr Parker and Finance Minister Grant Robertson and pass the watchful eye of government officials, he said.
Last month the Auditor-general John Ryan announced his office would undertake an additional review and an audit of the fund.
"It's public money and I've got to respect the fact process and probity are now a constant feature of my life."
Because all applications are confidential until they are announced, it is difficult to know how many bids had come from Otago and Southland.
A request for information on the number of applications made from southern organisations from the Provincial Development Unit went unanswered this week, and all requests made to individual councils were referred to the Ministry of Business, Innovation and Employment.
One bid which has been made public is the Dunedin Heritage Light Rail Trust's application for $100,000 for a feasibility study on its $23million project to resurrect the High St cable car.
Another possibility was a bid from Plaman Resources, the Australian company behind the controversial plans for a diatomite mine near Middlemarch, to go towards a planned processing plant near Milton.
Plaman chief executive Peter Plakadis has said there had been preliminary discussions about a potential bid, but until the Overseas Investment Office made a decision on the company's application to buy a 430ha farm near the mine, there would be no formal application.