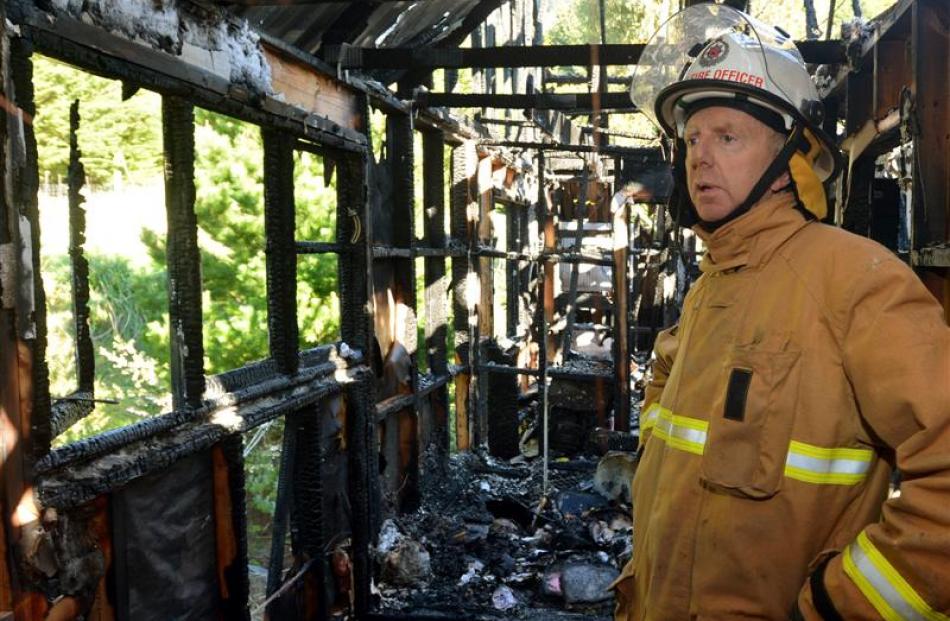 In a panic as fire and smoke swirled through her home, Patricia Reid heard a booming voice in the darkness imploring her to jump.
The voice belonged to Port Chalmers Chief Fire Officer Stephen Hill, who had rushed to do a risk assessment of the secluded St Leonards Dr property just after 3am yesterday.
Minutes earlier, Ms Reid had woken to find herself trapped in her upstairs bedroom, and used a cellphone fortuitously left in a trouser pocket to alert the Fire Service.
Within minutes of the call, volunteer firefighters arrived at the house.
Mr Hill told the Otago Daily Times he found her leaning out the window yelling "I'm here, I'm here", and "It's too hot, it's too hot".
Flames and black smoke were billowing out of the home and, before other volunteers arrived with ladders and firefighting equipment, he told her to jump from the window as flames engulfed her bedroom.
She did so, and he broke her 3m fall.
"It was either burn alive, or break something," said Ms Reid, who was later taken to Dunedin Hospital and treated for smoke inhalation and bruising.
"If he hadn't told me to jump, I would have been there in a panic."
Mr Hill told Ms Reid - who was later discharged from hospital with minor injuries - in the ambulance that: "You are so lucky".
Ms Reid was succinct in her appraisal of Mr Hill's actions.
"He saved my life. It is as simple as that."
While she was reluctant to visit the scene of the fire, which destroyed the home her family helped build in the 1980s, she planned to contact Mr Hill to "give him the biggest hug".
"These firefighters are real unsung heroes ... They were wonderful."
While two dogs fled the burning building, she had been concerned for her blue heeler-cross, Buddy, whom she believed was hiding under the bed.
"I was in a terrible mess thinking he was dead, but it was the most wonderful news that he survived."
A firefighter climbed a ladder to the room and managed to control the fire, enabling others firefighters to enter the room and find the dog under the bed.
"They dragged it out, and got it going ... It was obviously in a lot of shock and had sucked a fair bit of smoke in," Mr Hill said.
A pet cat was killed in the fire.
The property was insured, but she had lost all her possessions.
Port Chalmers firefighters were assisted by firefighters from Ravensbourne, and appliances from Dunedin and Willowbank, working to run water from a nearby street as the property was on tank water.
Southern region fire safety officer Barry Gibson investigated the blaze yesterday. It appeared a heater used to dry some timber downstairs may have been knocked over by an animal.
There were working smoke alarms in the home, which was an important reminder for people, he said.