The family living in a Christchurch home that was destroyed in an explosion today had been waiting for someone to fix problems with their gas fire earlier this week.
Six people are in hospital - with injuries ranging from serious to critical - following this morning's explosion in Marble Court, Northwood, which sent debris flying 100 metres in all directions and left the house looking like "matchsticks".
One of the first neighbours on the scene, former police officer Bradley Culver said he was amazed no one was killed.
Belinda Blanchfield told Stuff four members of her family and a family friend were inside the home at the time.
The explosion was "our worst nightmare".
Blanchfield's husband Paddy told Stuff there had been problems with gas earlier this week and the family were waiting for repair work to be carried out. He was not sure if that work had happened.
Fire and Emergency area commander Dave Stackhouse said it appeared six properties had been significantly damaged- one completely - by the explosion.
Stackhouse said all of Northwood was connected to piped gas, but at this stage it was not clear how there had been a leak.
"We've got our gas experts having a look at that," he said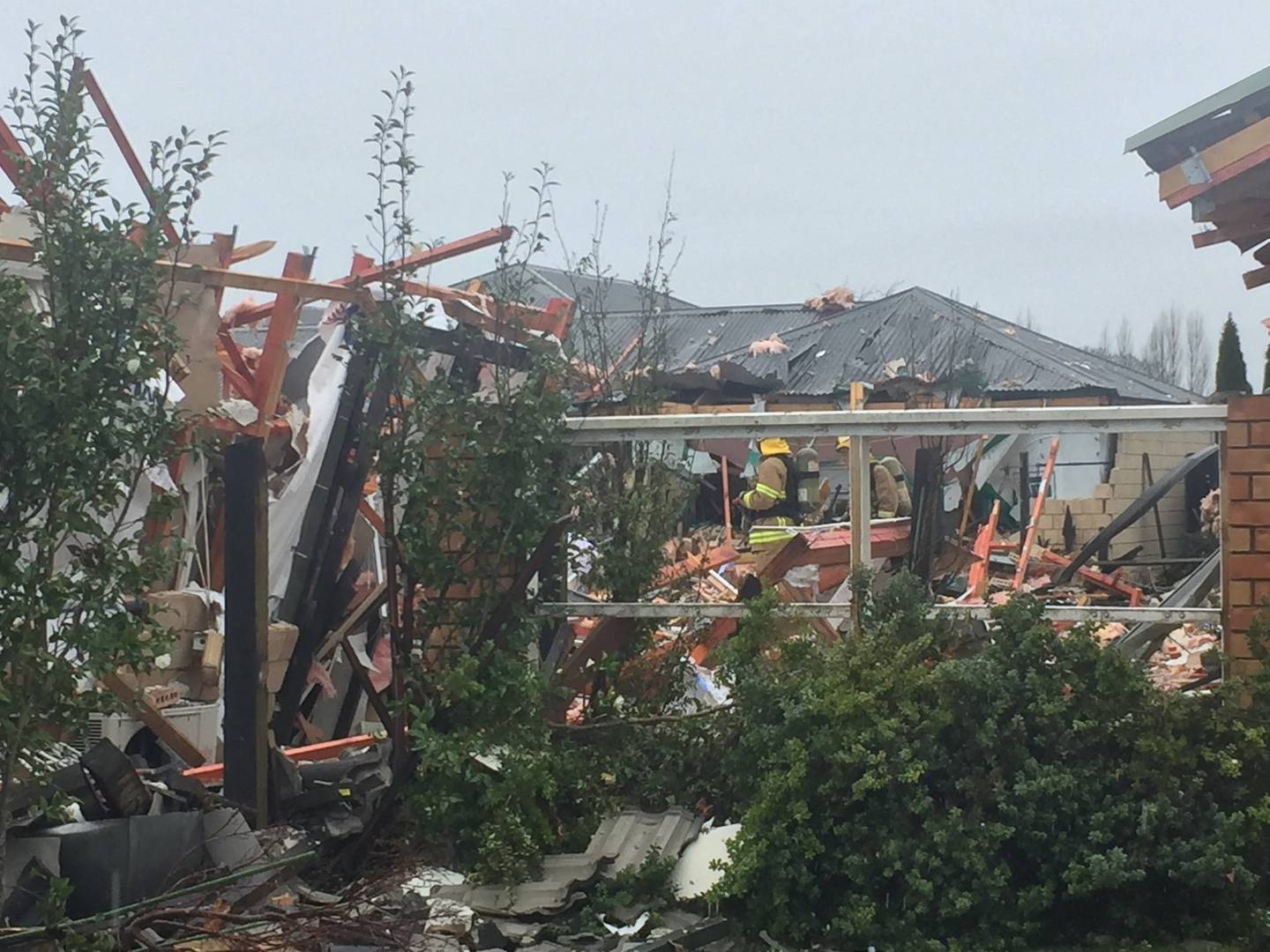 "Once we've got the scene safe ... we'll look at what's caused this and carry out an investigation with police and WorkSafe."
Stackhouse said his initial reaction to the explosion was "we are pretty lucky" more people weren't hurt but that the condition of those who have been injured was a concern.
He was comfortable the scene was secure and fire teams had "the safety of everyone well in hand".
St John territory manager Craig Dowling said six people had been taken to hospital with injuries ranged from serious to critical. One has been flown to Middlemore Hospital in Auckland where there is a serious burns unit.
Fifty residents were evacuated and taken to the Styxx Mill country club immediately after the explosion. Some, who live on the south side of Millstream Drive, are now being allowed to return home.
Country Club employee Tom White said concrete tiles from the roof of the exploded house had been blown 100m in every direction.
"The house is matchsticks. It's totally blown apart."
"It's caused a lot of destruction to other houses, its blown the garage door right of the next-door neighbour's house."
"We're okay but there are houses closer which are stuffed," he said.
"The house where the explosion was - you wouldn't even recognise it as a house now.
"I think there are definitely some injuries. They got them out [of the house] but it could be serious."
Maria Lee heard the boom in Burwood, about 15 minutes away from Northwood.
"It was like a sonic boom, a massive boom," she said.
"Our dog just about crapped himself."
Newstalk ZB Christchurch host Chris Lynch says callers from across the city say they heard an explosion with some residents in Redwood saying their houses shook violently.
The gas explosion destroyed a Christchurch house and injured five people. Photo / James Looyer
A worker at a nearby motel and holiday park said the explosion shook nearby homes and sounded like a bomb had gone off.
"It was more than an earthquake, you'd think a bomb had gone off."
She said insulation and small debris had fallen down from the sky onto her property.
"We've had housing insulation raining down on our property so something's obviously had quite a large explosion."
The explosion shook all the houses around and the woman said nearby residents had been coming over to the motel to check if everyone was alright.
"For the staff and everyone, it was certainly scary."
Facebook users reported hearing what sounded like an explosion all over the city, from Avondale, Bryndwr, Woolston, Parkland and Redwood, of which the resident said their house shook.
 - with star.kiwi