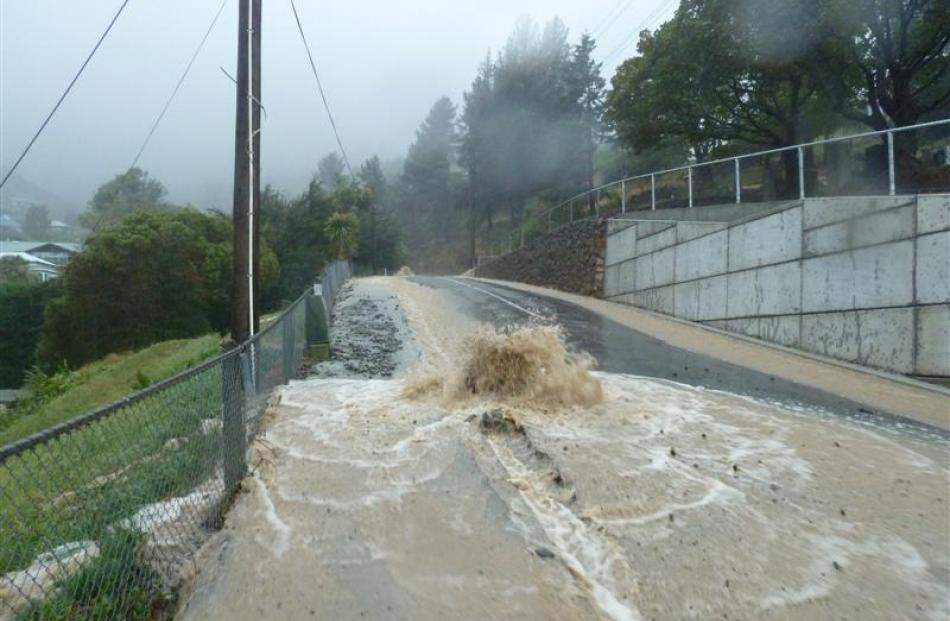 A cliff has collapsed at Lyttelton as stormy weather - described by the council as a one-in-a-century event - continues to batter the region.
The cliff collapse is believed to have occurred in the Cressy Terrace area, police said.
Emergency services are at the scene.
There are no reports of injuries so far.
Schools and roads throughout the Canterbury region have been closed by flooding while more than 4000 homes and businesses remain without power.
Mayor Lianne Dalziel and Minister for Canterbury Earthquake Recovery Gerry Brownlee hosted a media briefing at the council headquarters at 12.45pm.
The weather was calming and there was a sense that the water levels were receding, the mayor said.
She advised people again that they should stay at home if they could, and for family and friends to "look out for each other''.
Employers were asked to stagger the release from work for their employees to try and ease traffic congestion at peak times.
"That would help the city get through this," she said.
A welfare centre at Mairehau helped about a dozen people last night, Ms Dalziel said. An assessment would be made at 3.30pm to see if it was still required to stay open.
Staff were doorknocking to see if if residents were okay and geotechnical teams were "very carefully" monitoring the Port Hills.
Mr Brownlee said Cantabrians are "well and truly over these" major natural events, but they had to deal with the after-effects.
It was well documented that the topography of Christchurch has "dropped quite a bit" and that had changed all of the flood modelling for the city.
One upside, albeit a small one, he said, was that the flood's experience would help them plan for the future.
Mr Brownlee said the flooding was "quite extraordinary", and as a local who lived in the city his whole life, had never seen anything like it.
Asked if they had done enough to prepare for the event, Ms Dalziel said they had been preparing for a week.
At 5pm last night, the forecast was for a one-in-five-year event.
Now, they were looking at a once-in-100-years event.
"We couldn't have predicted the extent of rainfall which has occurred," the mayor said.
Ms Dalziel and Mr Brownlee were taking a tour of the city in 4WD vehicles this afternoon.
4000 without power 
Heavy rain is continuing to cause chaos in Christchurch today as emergency services deal with flooded homes, floating cars, trapped motorists and isolated communities.
Schools and roads have been closed by flooding while more than 4000 homes and businesses remain without power.
The council says it is the worst rain storm in almost 40 years, with up to 100 houses across the city believed to be affected by flooding.
Firefighters have attended more than 300 incidents in Canterbury since the southerly storm picked up yesterday morning, smashing windows, bringing down trees and power lines and lifting roofs.
Gale-force winds caused most of the damage yesterday morning, but by last night it was heavy rain causing most of the issues.
Surface flooding in the Richmond, St Albans and Mairehau areas had affected at least 50 homes overnight. A welfare centre was set up at Mairehau High School but only nine residents had needed to use it by this morning.
Christchurch City Council said a number of communities were isolated, including Sumner and parts of Banks Peninsula. Council staff and contractors were assessing the situation and would keep residents informed.
In Little River, a number of people have evacuated to the hall, where there has been no electricity since yesterday afternoon. A generator is being sent and welfare provisions delivered.
Water was being trucked into Little River and residents were asked to conserve water in Banks Peninsula.
Southern fire communications shift manager Andrew Norris said firefighters had received about 70 calls overnight and some 300 calls since the storm began.
"It's mainly confined to water damage now - we've had a lot of surface flooding and lots of leaking roofs and things like that. We've had crews from the Fire Service and Civil Defence teams out last night assisting occupants, putting tarps on roofs.
"Generally with the surface flooding there's not a lot we can do - it's just a matter of reassuring people and giving them advice."
Some homes were protected by sandbags while firefighters helped to evacuate three houses on Hulverstone Drive in New Brighton.
Firefighters also helped to remove several people from cars that got stuck in surface flooding overnight.
The occupants of one car, who were rescued about 5am, were sitting on the roof of the car when the fire crew arrived.
Police are urging motorists to be extremely cautious and to put off any unnecessary travel.
Acting Canterbury road policing manager Glenn Nalder said police had helped evacuate residents and rescue people stuck in cars. Patrols had also located vehicles floating in water on Barrington St.
Mr Nalder said police were continuing to help with road closures, slips and flooded houses across the city.
There had only been a handful of weather-related car crashes and no reports of weather-related injuries.
Police were were not issuing a blanket warning to stay off the roads.
"But people should check with their places of work and other commitments, and if they do not need to travel then please - stay off the roads.
"If people are driving then extreme care is necessary. Slow down, increase your following distances and be aware that journeys will take a lot longer today in the current conditions. Try to avoid flooded areas and slow down if travelling through flooded roads."
Mr Nalder also urged people to check on neighbours, friends and family.
St John ambulance territory manager Blair Andrews said there had been no increase in emergency calls as a result of the bad weather, but challenging road conditions meant it was taking longer to respond to emergency calls.
Christchurch and Burwood Hospitals remain open today and all elective surgery and outpatient appointments are going ahead as planned.
However, patients have been advised to allow extra time to travel to hospital and find parking. Visitors are being asked to consider delaying their visits until later today, when the weather is forecast to ease.
The District Health Board said there may be some disruption to meals on wheels services, but staff were doing their best to get hot meals out for lunch.
Plunket said the storm had forced the cancellation of many appointments, which were being rescheduled. It advised parents to stay home if they did not need to leave.
Power company Orion said 4100 customers were still without power, mainly around Banks Peninsula but also in pockets of Christchurch and surrounding area.
While winds had eased, flooding, slips and water-logged ground in the hills had prevented access to some parts of the network, delaying repair work in some areas, including Banks Peninsula.
Orion said some substations may need to be turned off in Christchurch today due to rising floodwaters, which meant some outages were possible.
The storm was ongoing so Orion was unable to say when power would be restored.
"It is quite likely that some customers will be without power overnight tonight given the access issues. All available crews are working to restore power as quickly and as safely as possible."
Christchurch Airport remains open but travellers are urged to check their flight details.
Further north, Cook Strait ferries remain cancelled due to high winds this morning. A KiwiRail spokeswoman said Interislander sailings were hoped to resume this afternoon.
Christchurch City Council has warned floodwaters were likely to be contaminated and people should avoid contact, and wash hands and clothes that touch floodwaters.
Isolated issues with wastewater were expected and the council said unnecessary toilet flushing should be avoided.
Rubbish collections were continuing as normal but would be unlikely in many low-lying areas. The council said bins will have tipped over and spilled their contents, so contractors would clean up over the next few days.
Geotechnical engineers were checking the Port Hills following heavy rain.