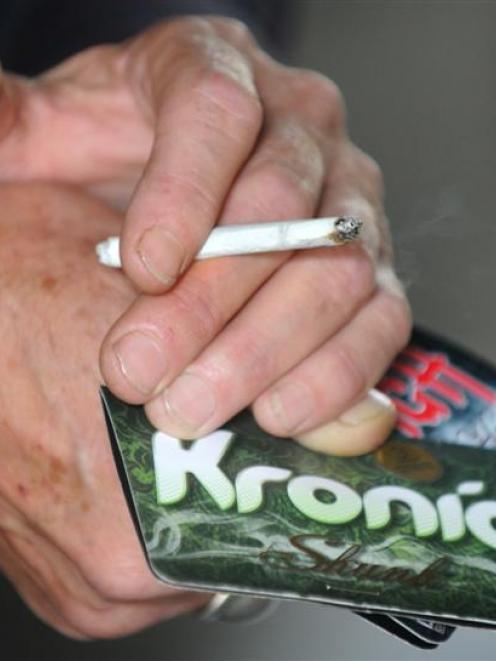 Kronic-style drugs are expected back on the shelves under the new legal high law being crafted by Associate Health Minister Peter Dunne.
Experts say the law will create one of the world's first open and regulated recreational drug markets with synthetic cannabis making a return.
The first legal highs will be offered for sale in 2014, based on estimates in papers released by health officials.
The new regime, announced by Mr Dunne last week, aims to end the uncontrolled legal high industry which is estimated to have made $250 million in 10 years.
The unregulated market has seen drugs sold legally with effects mimicking illegal substances like P, cannabis and Ecstasy.
In the law Mr Dunne aims to have ready by August next year, legal high manufacturers will have to pay to have their substance proved "low risk".
His office acknowledged it would create a legal drug market.
"That is the absolute intention behind this regime.
"The problem in the past has been that we had a totally unregulated market with who knows what substances in these products.
"I am quite unapologetic about leading changes that will make things safer for young New Zealanders."
Papers released by Mr Dunne's office show health officials estimate 10 applications would be made to have substances classified in the first year.
Each application would cost up to $2 million and would include animal testing and human trials to ensure the drugs were low risk.
"There may only be one or two approvals in the first year or two," the briefing papers estimate.
Health officials found the cost of the trials - which would be carried by the company wanting to produce the drug - did not put the industry off. They reported one company considering testing now even though the new regime was not fully developed.
Mr Dunne's paper to the Cabinet's social policy committee said users would still assume some risk but it would be an improvement on the present system which had no harm-prevention measures. Massey University drug researcher Dr Chris Wilkins said the system was "revolutionary".
"Having a government-approved legal high industry is pretty radical.
"New Zealand is the only country in the world going down that path."
New Zealand Drug Foundation executive director Ross Bell said the proposal was "22nd-century thinking" which posed serious questions for society.
"What happens when someone invents the pill or the powder that gets you the high you want, is completely non-addictive ... and is safe to drive on.
"Is there anything wrong with that?"
By David Fisher