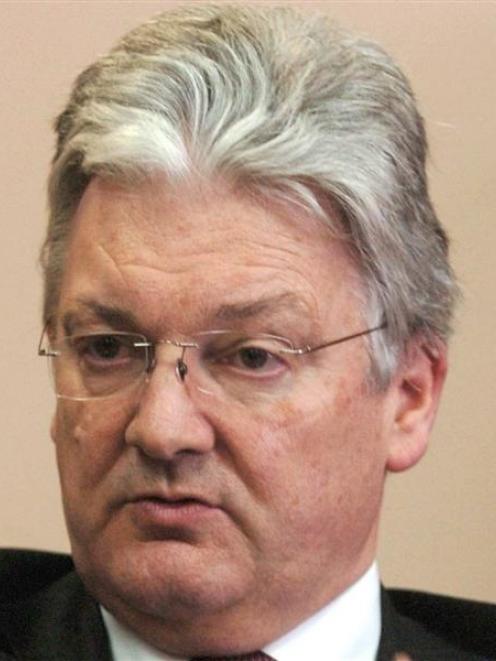 A whistleblower is calling for an independent inquiry after the alleged involvement of a senior minister in a major pokies investigation.
The Trusts Charitable Foundation (TTCF) was informed by Internal Affairs in September 2010 it could no longer distribute grants because of an investigation, which included the trust's relationship with the Otago Rugby Football Union.
That investigation was largely based on documents and information supplied by former TTCF contractor-turned-whistleblower Martin Legge, who was told by officials the case would be a "slam dunk" for the department.
However, two months later, an investigator told him "all hell has broken loose", after the involvement of United Future leader Peter Dunne.
Mr Legge said that shortly afterwards, the TTCF was able to grant funds and the investigation was placed on the back burner.
Frustrated by the lack of progress in the case, he was calling for an independent inquiry into the handling of the investigation.
"I now want a full independent inquiry into this. I want the bureaucrats to be able to speak honestly without any repercussions." Mr Dunne's office did not say whether he would support such an inquiry.
"He was an MP doing what MPs do every single day and querying entirely appropriately for an electorate organisation that had legitimately been given a grant as to where that grant was," his press secretary responded this month.
"There was nothing vaguely scandalous, controversial or newsworthy about it ... and, to be honest, our view was that it was a total beat-up," he said, referring to a previous Otago Daily Times article on the topic.
In that report, Mr Dunne confirmed he had contacted Internal Affairs after the non-payment of a pokie grant destined for parades in his electorate.
Mr Dunne is the chairman of the Northern Festivals Committee, which runs the Johnsonville and Tawa Christmas parades.
He said he had contacted Internal Affairs to find out why the $8114 grant had not been paid before the festival, which is held in the first week of December.
Documents released under the Official Information Act show Mr Dunne contacted former internal affairs minister Nathan Guy's private secretary on November 24, 2010, raising concerns over the non-payment of the TTCF grant.
"Has there been any progress on the matter I raised with you on Friday last? I have tried ringing you without success," Mr Dunne asked Mr Guy's secretary.
In another released email, former Internal Affairs senior staff member John Markland wrote a draft letter about TTCF's position, which was to be copied to Mr Dunne.
"However, picking up Mr Dunne's comment about sorting out the legal niceties afterwards, couldn't we suggest something like TTCF have an urgent meeting under the old approved arrangements today and approve all the grants for people that they've told have been successful and it's just DIA holding things up, and they send out advice with the grants saying that actually it was all TTCF's fault not DIA's, rather than telling them it's all TTCF's fault when they get told they're not getting the grant they were promised." Mr Legge said he found those comments regarding Mr Dunne interesting, as Mr Guy had declined to meet him to discuss the lack of progress in the investigation in early 2011.
"As [then] minister of internal affairs, I do have to be careful that there is no perception of interference with the independent role of the department to regulate gambling," Mr Guy wrote.