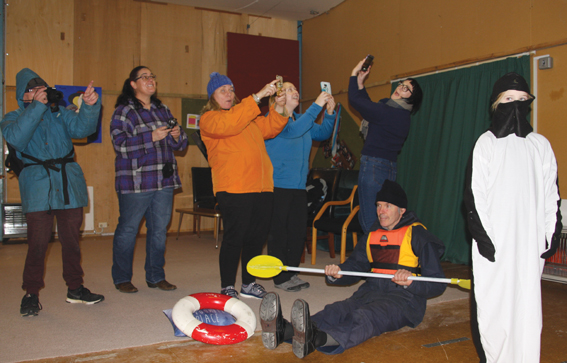 Fiordland Players present their annual performance with a new concept.
"The Rural Variety Show" is packed with talent for performances being held at the Fiordland Community Events Centre in Luxmore Drive on Saturday 17 August 7.00pm and Matinee Sunday 18 August 2.00pm. Adults $20 Concession $10 U14 $5 Available at Clementines or on Facebook https://www.facebook.com/fiordlandplayers/ or via email:fiordlandplayers@gmail.com
Fiordland Players spokesperson Trace Dainty said "This year we wanted to change things a bit, and not put on our usual play. Fiordland has a town packed with super talented people, and Players wanted to give them the chance to shine in their own way, with a Rural Variety Show.
"There are several skits involving kids, with some of the kids from last year returning, and a few new faces, too. Kids are our future, and we love encouraging them to get out there and give it a go, in a fun, supportive atmosphere, at a level they feel comfortable with".
"The call for these talented people in the community has produced over 60 people who will be performing with many more involved behind the scenes helping each individual act come together" said Trace.
Director and Committee Member Pauline Nicholson said "The Players committee members are very busy with "multiple hats on "Singing, acting, Directing and Producing".
The 18 performances in the show involve Kids and Adults in comedy skits, Highland and Jazz Ballet dancing, piano accordion, Ukulele Group, various singers, College band and juggler. Coordinating a large number of people can be challenging at times, but the various ones returning and new faces joining us are extremely enthusiastic and dedicated to helping put on a top notch show. There is still a need of a few backstage helpers to help keep the actual show running smoothly, on the day, so if anyone is interested, the Players would love them to contact us. The behind the scenes crew are just as important as the on stage performers.
The show is approximately 2 1/2 hours, with two acts and an intermission. Tickets are $20 adults, $10 concession and $5 children 14 years and under. Bar and snacks and eftpos are available.
This year we have a raffle as a Fundraiser for The Shed, which has been home of the Fiordland Players since round 1990. Running such a property means many funds are needed to keep the lights on and can continue to grow, and give more of the Performing Arts back to the community. Prizes have been donated by Real Journeys, Southern Discoveries, Freestone Backpackers and Sues' Doggy Day Spa says Trace. The Players' members will be selling their raffle tickets at Freshchoice Te Anau – 9, 10 and 16 August.