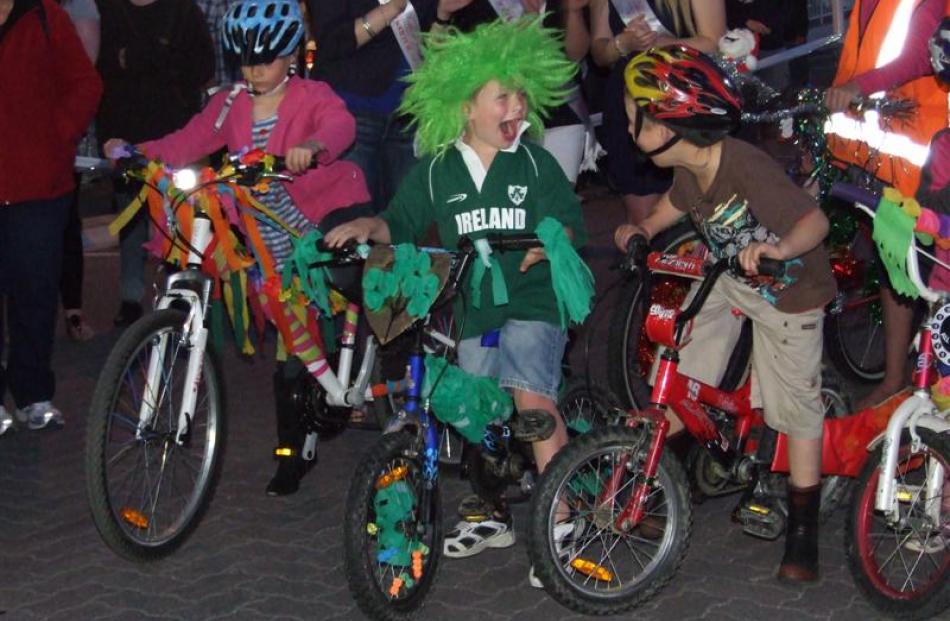 The blossom was in full bloom on the fruit trees yesterday as the family fun started in the 55th annual Alexandra Blossom Festival.
The focus was on free, family-friendly entertainment as about 1000 people lined Tarbert St for the Mardi Gras last night.
The Otago Daily Times-sponsored event was revived last year after more than a decade as part of a "back to basics" festival. It proved popular again last night, events including decorated bikes, bed races, a truck pull, bike races and a Festival King contest.
Festival chairwoman Clair Higginson was optimistic the weather would be fine for the main festival attraction today: the float procession. Blossom around the district was at its peak, the flowering coinciding "perfectly" with the festival, which is sponsored by Contact Energy.
There were already extra visitors in town yesterday, so she was hoping for a good turnout today.
"Early-bird ticket sales have gone well and we're hoping to get some of the people travelling to watch the [Rugby World Cup] rugby game in Dunedin later in the evening, stopping off here on their way through."
Earlier in the evening, nearly 100 competitors took part in the Round the Clock Race, sponsored by The News.
It was the last race on the course, which crosses the Manuherikia River, and heads up to the giant clock on the hill and back. Next year, competitors will race over the river, around and above the huge clock.
Michael Wright, of Ettrick, won the individual section for the second successive year in a time of 8min7sec, a little slower than last year.
"I'm another year older," the 36-year-old said.
Gabriella Schmidt, of Alexandra, was the first woman home in a time of 11min14sec.
A team comprising Allan Henderson, Kalle Oliver, Phil Oliver, Jimmy Pollard, Gordy Millar, John MacKay and Stacey Waldron won the teams race in 5min 11sec.