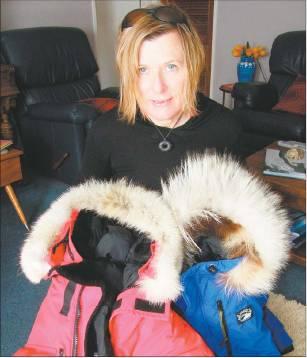 Inspired by her Siberian huskies, Clyde woman Lyne McFarlane longed to explore the Arctic led by a team of dogs. Earlier this year she leapt at an opportunity to take that unique journey.

Ms McFarlane's interest in sled dogs stems from her partner Ray Logie, of Clyde, who travelled in the Antarctic with dog teams between 1960 and 1963.
However, it was at the top of the world that the Lincoln Universitytrained wildlife biologist would embark on her own icebound adventure.
''I always wanted to do some research in the Arctic and I contacted the ANWR office in Fairbanks and they put me on to Joe,'' Ms McFarlane said.
ANWR (Arctic National Wildlife Refuge) is administered by the US Fish and Wildlife Service in Fairbanks, Alaska.
Joe Henderson, of Fairbanks, has spent the past three years retracing the steps of geologist Ernest de Koven Leffingwell (1875-1971) with his team of dogs: 22 Alaskan malamutes.
Leffingwell was a member of the Anglo-American Polar Expedition exploring the Beaufort Sea, north of Alaska when the ship, the Duchess of Bedford, became ice-bound and had to be abandoned in 1906.
Using supplies and wood from the ship, two of the crew, Leffingwell and Mikkelson, built a cabin on the Alaskan Arctic coast.
Mikkelson stayed on for a year then returned to publish his journals, but Leffingwell, a geologist and scientist, stayed on for nine summers and six winters to continue mapping and identifying the Alaskan Arctic coast and parts of the rugged Brooks Range.
Using those maps, Mr Henderson travelled the roughly 4500 sled miles sharing some of the same terrain, hardships and logistical difficulties experienced by Leffingwell.
Ms McFarlane and Katy Fitzgerald, of Colorado, had similar aspirations to each other and embarked on a month-long journey with Mr Henderson and his team of 22 dogs aboard three toboggan-type freight sleds.
''For three people who didn't know each other it's always a risk, but we got on really well.
''We formed a strong bond, but basically you have to survive.''
It was early spring in Northern Alaska when Ms McFarlane flew into Kaktovik. The population in the village on Barter Island is about 280, mainly Inupiat Eskimos.
''It was everything I thought an Arctic village would be.
''It was bleak and windswept at the top of the world.''
There in the Beaufort Sea, 60 miles from Canada and 200 miles north of the Arctic Circle, she met Mr Henderson and her other travelling colleague for the first time.
''You couldn't walk away from the village because of the risk of polar bears.
''We had three rifles on the sled with us, as there was always a risk of being attacked.''
Those who lived at the village were intrigued to meet a New Zealander from the bottom of the world.
''They all knew about Kiwis . . . they new about Vegemite and Marmite - they thought it was disgusting.''
Field officers at ANWR were also excited to meet Ms McFarlane and gave her a book about Alaska which she now treasures, Seasons of Life and Land, a photographic journey by Subhankar Banerjee.
''It's a reflection of the uniqueness of the area and potential threats of future oil and drilling and that sort of thing.''

In the discussions Mr Henderson had with Inupiat elders, they too had concerns for the region.
''There were changes that they had noticed - there were less animals and the seasons were a lot different.''
His findings about the native Alaskans may be included in a book and would make up part of the research he was writing up for the University of Alaska in Fairbanks.
After spending seven days acclimatising in Kaktovik the two women, at the guidance of Mr Henderson and his dogs, headed into the Arctic National Wildlife Refuge.
At first they travelled along the coast before turning inland into a river valley.
''In the morning it takes about two hours to get geared up to get away, by the time we got the tents down.
''Harnessing the dogs, all hell breaks lose, they're howling and crying and jumping up and down.
''All the harnesses are covered in frozen dog poo because they poo while they run.
''You've got to put the harness on this big huge fluffy thing that's leaping up in the air and there's another dog with its nose up your bottom and one is weeing on your leg.''
Regardless, Ms McFarlane had her favourite malamutes and dreamt about bringing two of them home with her.
''They were really lovely dogs - they were really friendly and they loved cuddles and pats.
''They don't leave the pack or anything like that, they were really well-trained, a reflection of their good breeding and Joe's handing skills.''
Mr Henderson had worked with Alaskan malamute sled dogs for 25 years and respected their reputation as loyal pets and freighting dogs capable of enduring long distances and extreme conditions.
''The dogs were always paramount . . . they were our survival.''
Each sled weighed more than 544kg and the dogs kept a speed of between 4km to 12kmh, travelling about 48km a day.
The first four days they followed the sea ice before turning inland.
''The thing I found the weirdest is you just had no concept of time.
''Whether it was the tundra, the long flat planes, I don't know . . . five hours felt like two hours.''
They finally reached the mountains in the Brooks Range by travelling up the Kongakut River on their way back to Kaktovik.

''Part of the area we were in is the migration path for caribou.''
A member of the deer family, caribou graze in the thousands during October on the massive plains and boggy marshlands known as the Arctic tundra. Their diet is moss and lichen.
''There were a lot of low shrubs such as dwarf willow and lots of animal tracks - the wildlife was incredible.''

Arctic foxes, wolves, coyote, wolverine (a relative of the mink and weasel), thousands of ptarmigan (the smallest bird in the grouse family) and lemmings (small rodents often falling prey to other animals), were observed.
The temperatures ranged from -20degC to -45degC and the right clothing was essential for survival.
''Ultimately, the traditional way of dressing is still the warmest.''
Depending on weather extremes dressing in either one or two down hooded jackets was essential with wolverine, wolf or coyote fur around the face, heavily insulated overalls, a balaclava, face mask and seal skin mitts.
''The snow was just so incredibly light and fluffy.
''Beautifully formed snowflakes - it was incredible, I'd never experienced this before.
''You could roll around in it and just never get wet.
''We did a lot of running with the sled to keep warm - your face, feet, hands and nose suffered the most.''
Chemical hand-warmers, like little hotties were inserted inside their gloves, or boots and around chilled kidneys. ''We had a small pot belly stove and chimney in each tent for warmth and cooking.
''Along the sea ice we found logs washed up on frozen gravel beaches mostly spruce from the MacKenzie River in Canada.
''Further inland, the wood was old stunted, twisted mountain willow.
''Having this free wood supply meant we had warmth and were able to cook, but it usually took about two hours at night of chopping and sawing before we had a bucket each.
''And yes it was hard to do these tasks at -20degC to -30degC in heavy clothing.''
As part of the Inupiat tradition, hunting caribou and whale for food remains their cultural right.
''We were lucky enough to try some muk tuk - whale blubber which the Europeans don't usually get to try.
''You only have a small piece and its incredibly warming - very, very rich, but it certainly keeps you warm.''
Wild dall sheep and salmon was also part of the Alaskan diet.
Having travelled more than 640km, the expedition had to be cut short, the team returning after 14 days in blizzard conditions, -45degC temperatures and strong winds.
However, Ms McFarlane intends to do it all again, hooked on the dry, winter climate.
''The first weekend I was home I thought, God, it's so damp here.''
And ''yes'', she may have to do the journey in the summer to see more plant and animal life on the Alaskan landscape.
''It's indescribable really and travelling by dog team just took your breath away.''