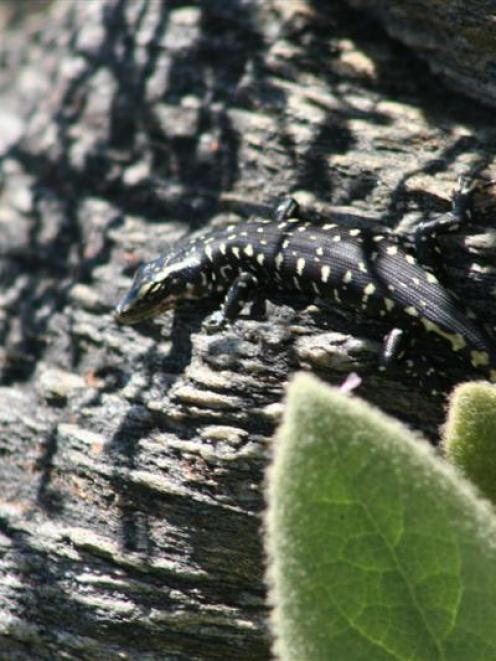 Two scaly new arrivals born last month near Alexandra might not win any baby contests but their birth has generated more fuss than most newborns.
Lizard lovers and conservationists are excited about the birth of two Otago skinks, whose parents were captive-bred but have been returned to the wild.
The youngsters were found within the 0.3ha Mokomoko Dryland Sanctuary near Alexandra.
The sanctuary was set up by a community group - the Central Otago Ecological Trust - working alongside the Department of Conservation, Landcare Research and the Central Stories Museum, with the aim of reintroducing fauna that had been lost from the Alexandra Basin.
Trust chairman Grant Norbury is "stoked" with the new arrivals.
"These two babies are the only known ones in the sanctuary, but there could well be others we haven't found yet - and they were located in different parts of the sanctuary so we think they have different mothers.
We're thrilled, relieved and over the moon about their arrival," he said.
This was a major milestone for the trust - that the adult skinks had survived the winter and had begun breeding.
"The next milestone we hope to achieve is population growth and ultimately long-term persistence of the population."
In November 2009, 12 captive-bred adults were placed in the sanctuary and nine of those skinks remain - five males and four females.
Grand and Otago Skink Recovery Programme manager Andy Hutcheon said the baby skinks were "great little guys".
Now measuring about 10cm-15cm from nose to tail, they would grow to about 30cm as Otago skinks were the largest lizards in the country.
"The Otago skink babies are skinny, but they have these wonderful vibrant colours - a real jet-black base with greeny-gold-coloured markings.
As they get older the colours fade."
Although two more skinks would not make a big difference overall to boosting the endangered population, the fact they were born in the wild from captive-bred parents was significant, he said.
"That's proof for us that using a tool like this - returning captive-bred skinks to the wild - does work.
Although it's a small start to boosting the population, it's a great stepping stone knowing captive-bred skinks can be reintroduced to the wild successfully and produce young.
It opens up other options for us to ensure their survival, completing another piece of the jigsaw."
Otago Skinks were at risk of extinction in the wild within a decade, Mr Norbury said.