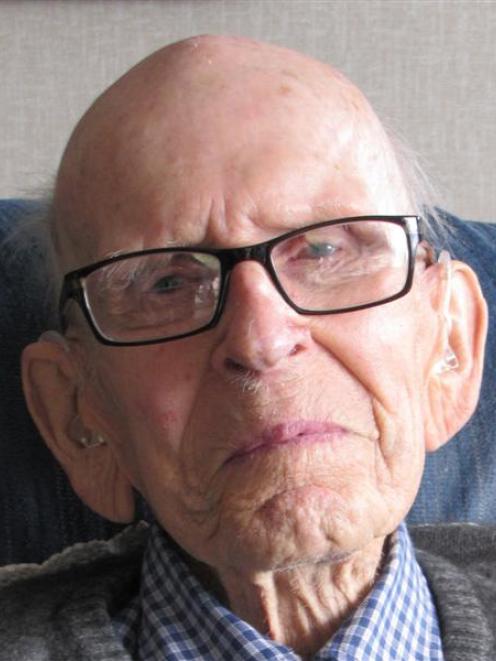 ''You're late, aren't you?'' Peter Wildey said as I walked into his immaculate lounge.
It was 4.01pm. I was one minute late. Mr Wildey's respect for timekeeping is understandable. He is, after all, about to turn 100. He was born to David Wildey and Caren Lyders in Dunedin on October 13, 1913, the third of four children and the only son.
An oxygen machine somewhere in a corner of the room hums quietly as the World War 2 sapper, radio serviceman, miner, engineer, father, grandfather and great-grandfather sits up in his reclining chair, having just woken from a nap.
He is surrounded by flowers and cards from Queen Elizabeth, Prime Minister John Key, Governor-General Sir Jerry Mateparae and other dignitaries.
He is almost perfectly still except for his head and eyes. He often nods in agreement as his eyes dart back and forth between me and his youngest daughter, Alison Wildey.
Those eyes have grown old while watching the world transform around him, but Mr Wildey is not one to shun modern conveniences - a smartphone and tablet computer sit within easy reach of his chair. His passion for tinkering with technology had lasted for much of his life, oldest daughter Sally James said.
''He attended Mornington School, Otago Boys' High School and later the School of Mines at Otago University. While at varsity he also worked as a radio serviceman at Calder Mackays and he never gave up tinkering with radios and later TVs. Even today he has a soldering iron next to his bed.''
Mr Wildey was still at university when World War 2 broke out. He left the country as a second lieutenant but returned home five years later as a major.
He remarked that during the war, ''we were just shooting each other into exhaustion''.
During the war he married army nurse Mary Crawford in Cairo, Egypt, which meant the end of service for Mrs Wildey - a senior staff member had noticed her wedding ring, which was not allowed while on duty, but she would not take it off and gladly returned home.
Mr Wildey followed soon afterwards.
They settled in Maori Hill, Dunedin, created a large vegetable garden and chicken coop, and raised three daughters - Ms James, Gillian Heatherington and Ms Wildey.
Mr Wildey moved to Alexandra 23 years ago after his wife died. He still lives in his own house.
He said his favourite things about Alexandra were the summer heat and trout fishing. He was also a keen bowler and singer in the RSA Gentlemen's Choir until recently.
Ms Wildey said her father had a quadruple bypass 15 years ago and had led a fulfilling life since, but was now suffering from congestive heart failure. However, he still loved to read.
So, what is the secret to a long life?
Mr Wildey reckons it is in a person's genes - his older sister Caren died just before her 102nd birthday, his cousin Les Lyders is still milking cows at 103 and his uncle Ben Lyders, who had smoked since he was 12, died aged 98.
Mr Wildey will celebrate his birthday tomorrow at a lunch with 30 family members, including five grandchildren and six great-grandchildren who have arrived from around the country, and later at an afternoon tea with friends.