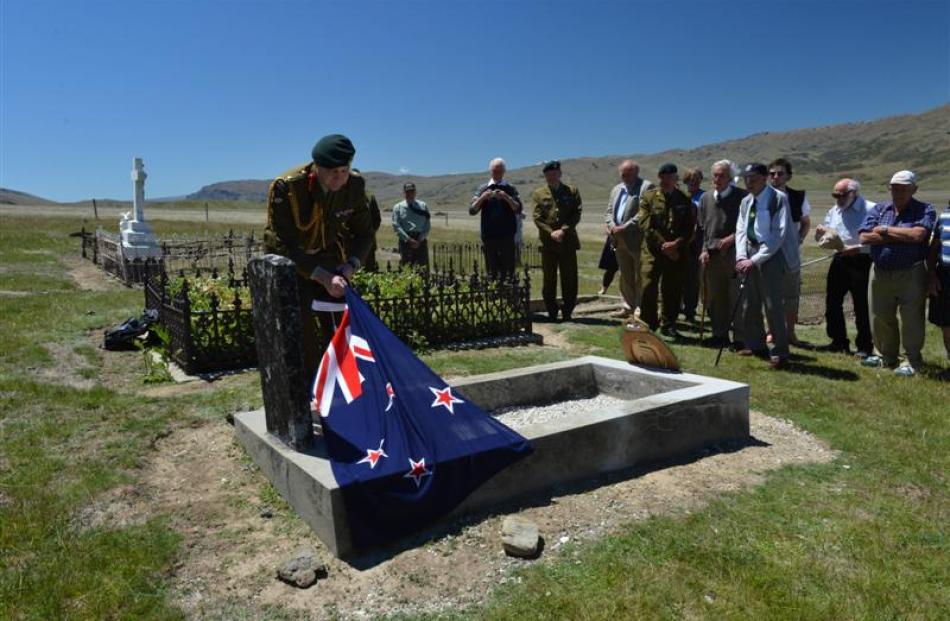 In an isolated patch of Central Otago yesterday, in a cemetery containing mostly unmarked graves, an ''ordinary'' New Zealand soldier was recognised in extraordinary circumstances.
Charles Risk, a trooper in the Otago Mounted Rifles during World War 1, did not receive any medals for great acts of valour and served only a short time before contracting typhoid fever, then tuberculosis, and returning to New Zealand where he died, aged in his early 30s, in the Nevis Valley, from pneumonia.
Yesterday about 40 people took the long, steep, winding gravel road to the Nevis cemetery for the unveiling, by Lieutenant-general Rhys Jones, chief of the New Zealand Defence Force, of a plaque commemorating Trooper Risk's life.
Lt-gen Jones described him as an ''ordinary'' soldier - ''but that's what New Zealand soldiers are about, everyday people who don't consider themselves special''.
The plaque was instigated by a small group of local men, including Derek Whelan, of Cromwell, who noticed Trooper Risk's grave had fallen into disrepair.
Over the years he had kept the grave tidy and always made sure he had a ''poppy on Anzac Day''.
Mr Whelan approached several different organisations, including the Historic Cemeteries Conservation Trust, about restoring the gravesite.
Now, it is framed in concrete and bears the plaque, funded by the Central Lakes and Otago Community trusts, detailing what little is known of Trooper Risk's life.''
It's a wonderful thing that you are doing to recognise an individual of no great merit,'' Lt-gen Jones said.
John Neilson, another of the men instrumental in the project, said because he was ''just a trooper'' in World War 1, not much was recorded of Mr Risk.
He was born in Kelso, West Otago, in 1890. When war was declared in 1914, he was working as a labourer in Tapanui. He joined the army and travelled to Egypt and the Dardanelles. He fought at Gallipoli before falling ill. He returned to New Zealand and was discharged from the army in 1917.
Mr Neilson said it was not known why Trooper Risk came to be in the Nevis.''
But probably it was not for work but for the rarefied air for his tuberculosis''.
Fewer than 10 men of the Otago Mounted Rifles regiment survive but some of them made the long trip to the Nevis yesterday, including George Johnstone (91), of Mosgiel.
He said it was ''just beaut'' to be able to attend.
Lt-gen Jones awarded Mr Neilson a New Zealand Defence Service Medal.
Earlier that day he awarded six men from the 2/4 Royal New Zealand Infantry Regiment the same medal.
They were: Corporal Nick Booth, of Hawea, Corporal Darian Perett, of Cromwell, Second Lieutenant Aaron Halstead, of Queenstown, Major Ian Piercy, Wanaka, Second Lieutenant Tyne Schofield, of Queenstown, and Lance-corporal Paul Cartlidge, of Wanaka.