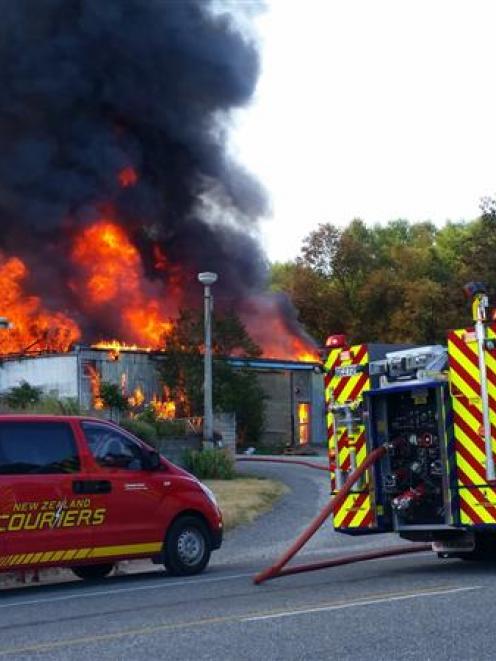 Forty-four gallon drums full of honey helped fuel a blaze which burned down a beekeeping building near Alexandra on Saturday.
When fire crews attended about 3.30pm, a column of thick, dark smoke was visible in the sky.
Alexandra Volunteer Fire Brigade Chief Station Officer Russell Anderson said the quantity and blackness of the smoke produced ''a sense of urgency''.
''When you see that, you know someone is in deep trouble.''
During the fire, flames engulfed the whole building, which sits on the corner of Letts Gully Rd and State Highway 85, and smoke was visible from as far away as the Cromwell Gorge.
Witness Marianne Maslin-Grimward said it was an inferno. The smoke was a ''thick, black, oily'' pall.
''I have never seen anything like it in my life. ... we [she and her husband] were standing on the other side of the road and the heat on your face was incredible''.
At one point, a digger was used to demolish walls and clear debris so firefighters could extinguish the blaze inside what remained of the building, which was constructed mainly of concrete blocks.
It was destroyed, along with forklifts, a car, other vehicles, honey, and beehive building materials stored inside.
About 30 firefighters from the Alexandra and Clyde brigades, two appliances, the Central Otago Command Unit, and a tanker from the Otago Rural Fire Authority helped put out the fire.
Police also attended, managing traffic, and closing SH85 for about an hour and a-half.
Delta staff isolated power to the property to ensure the safety of firefighters.
Mr Anderson said the initial fire crew was at the scene until about 8pm, when another crew took over to manage hot spots.
Nearby houses were not damaged, and there were no injuries.
''Not even a bee-sting.''
''Distraught'' was a good word to describe one owner, Mr Anderson said.
''It's his livelihood ... he made a comment the only things he had left were hives in the field and his truck he was in.
''What he lost could not have come at a worse time [in the busy season].''
The Government's Food Safety website says the site is occupied by a company called Elms Apiaries, operated as a partnership between Murray Poole and Russell Poole. They could not be contacted for comment yesterday.
Russell Poole was mayor of Alexandra from 1986-89.
Mr Anderson said the cause of the fire was not yet known. However, it was believed it had started inside the building. Central North Otago fire risk management officer Stuart Ide was investigating the fire yesterday.
Mr Anderson thanked members of the public who helped the fire brigade during the operation on Saturday.