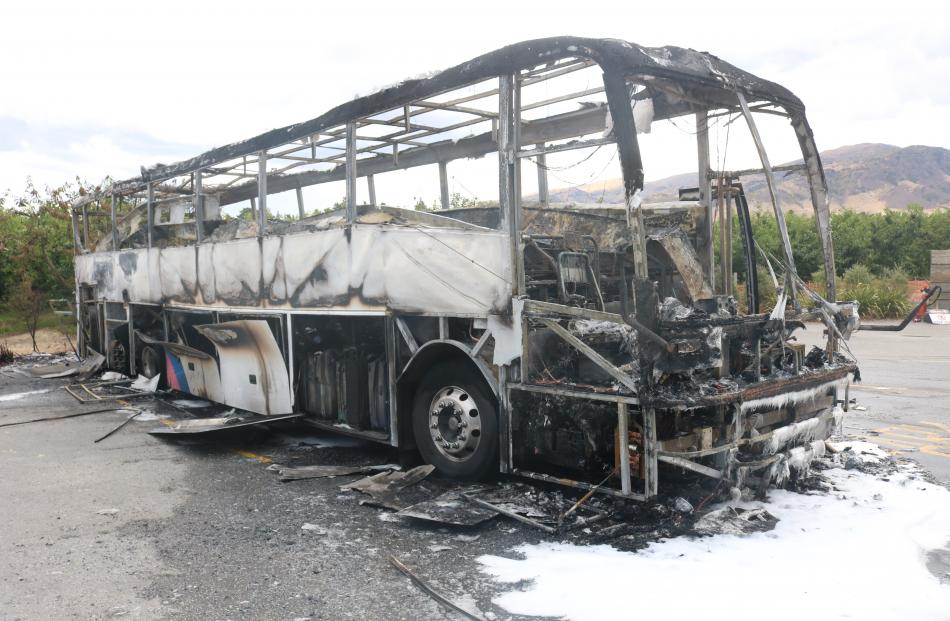 Nearly 50 tourists lost their possessions after flames rendered a bus a ''skeleton'' near Cromwell yesterday afternoon.
A fire investigator has been requested to determine the cause of the fire, which engulfed the vehicle outside Jones Family Fruit Stand.
None of the 48 passengers on the Trafalgar bus destined for Queenstown were harmed in the incident.
The Travel Corporation head of public relations Vanessa Budah said the coach was chartered from a third party, Pacific Tourways, which was investigating the cause of the fire.
The bus was carrying Trafalgar and AAT Kings tourists.
The companies are owned by The Travel Corporation.
''Alternative transportation was immediately arranged and guests were transferred to their hotel in Queenstown, where they are currently resting.
''The safety and wellbeing of our guests is paramount and we are doing all that we can to assist them with their needs at this time.
''The trip will continue as planned,'' she said.
The fruit stand is a popular tourist pit stop on State Highway 6 near the entrance to Kawarau Gorge.
Cheryl MacKenzie, who works at the stall, said the fire started while the vehicle was parked and passengers were shopping.
''The bus is pretty much burned right out.
''There were lot of people in it, and all their luggage is gone. They've all lost their passports, everything.
''There's just a skeleton of a bus.''
Tourist Luke Grennon, from Ireland, said he lost most of his valuable possessions in the fire, including his suitcase, clothes, iPad and a camera lens.
''We were in the shop and we came out and heard a bus was on fire.
''We saw strong black smoke and flames just spread. It started from the back of the bus.
''I'm happy no-one was on the bus. It's so unfortunate, but luckily everything can be replaced.''
Tourist Roberta Ward, of California, said the bus had transported the group around the South Island.
It had travelled from Franz Josef yesterday.
''I was buying an ice-cream and we saw the black smoke come out. We had all our belongings, medication, jewellery, passports.
''I'm concerned about how safe buses are. Ordinary buses don't blow up like that.''
The group left to travel to Queenstown on a Scenic New Zealand Queenstown bus at 4.50pm.
Staff at the stall gave bus occupants free food and ice-cream while they were waiting for their replacement transport to arrive.
Owner Eletheria Jones said she had never seen anything like it in the 37 years she had run the stall.
Fire and Emergency New Zealand communications shift manager Tim Reynolds said vehicles from Cromwell, Alexandra and Clyde were called to the scene about 3.20pm.
It took more than an hour to extinguish the blaze, he said.