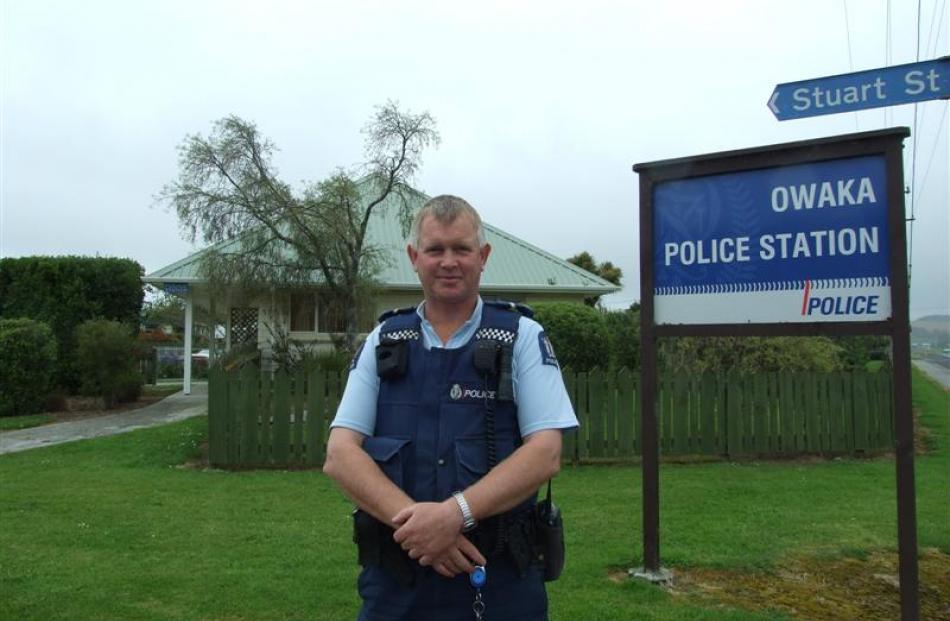 With the possibility of further restructuring across the Southern policing district, Balclutha reporter Helena de Reus takes a moment to look at our small community stations.
When things go wrong, we want help to be close at hand. But in smaller communities there are fewer police officers, covering large areas - community policing.
In the Southern policing district, which covers Otago and Southland, there are 44 police stations and a base at Dunedin Airport.
Of these, 19 are sole-charge, which means there is one police officer based at the station, living in that particular town or township.
Solo officers often face challenges different from those faced by their counterparts in bigger centres, with perhaps the biggest being the lack of nearby backup.
Senior Constable Murray Hewitson has been Owaka's only police officer for eight years.
He grew up in Mosgiel and was stationed there directly before moving to Owaka with his wife, Karen, and their son, Liam.
''It was pretty daunting when we first came here. It took a couple of years to build trust.''
As with every job, that of a sole-charge officer has both its perks and drawbacks.
''You live next door to your station, and people in the country tend to only deal with their local cop. They don't want to talk to some stranger on the phone.
''Basically, you are always working ... It is a double-edged sword to have the house right next to the station.''
People knocked on both the station and house doors ''at all hours'' and the position was ''a big ask for your family''.
However, Snr Const Hewitson (49) took up the role to experience rural policing and to become part of the community.
''You are becoming part of the community, and you have a little more flexibility. You get a better work/family balance.''
While the nearest backup was 20 minutes away, Snr Const Hewitson did not feel in danger, and could call on the local volunteer fire brigade if necessary.
''I won't go alone if I don't know where I am going. Depending on the situation, I will either wait for Balclutha or get one of the fire brigade.
''I still get to work well with other officers in the policing area, and it [Owaka] is still a relatively low-crime area.''
''You will have weeks when it is very quiet, and then weeks when it is very busy.''
He has been called to all sorts of incidents, from traffic to petty crimes to serious offending, from removing fallen trees from a main road to investigating odd burglaries. Last October a safe was found in the Catlins bush containing almost $11,000 in cash. A hole had been cut into it and cash, passports, birth certificates and jewellery taken. But it appears burglars missed a second compartment with $10,850, all in $50 and $20 notes.
At the time, Snr Const Hewitson said the safe was believed to have been stolen in the burglary of a South Otago home in November 2010. The safe's owner gave a good description of the safe and its contents, and his safe keys opened the lock.
''Finding a safe in the bush with $10,000 was pretty odd. Every day, you don't know what will happen ... You have to have a sense of humour [in this job], otherwise you would go mad.''
Having community support was an integral part of the job, particularly as expectations were higher in a small community.
''City policing is that you do your eight hours and go home. Here you get contacted and you are with it the whole way through. People's expectations in the country are higher - here, they know you.
''Most people here are very helpful. When adversity or tragedy happens, all rally around. They know I have a job to do.''
The newest sole-charge station in the Southern district is Roxburgh, after one of the two officers based there, Senior Constable Jape Wanoa, retired in mid-April after 25 years in law enforcement. Constable Lance Davies remains there as the sole-charge officer.
Snr Const Wanoa was not replaced because, after a review of staffing levels, it was decided to swap his position for a new one of rural community officer.
That officer will focus on rural crimes such as poaching and the theft of stock and diesel and work closely with sole-charge officers in Ranfurly, Omakau and Roxburgh, officers based at Cromwell and Alexandra, and the rural sector. The position is yet to be filled.
Roxburgh's first policeman arrived in the town in 1878 and since then, a total of 15 officers have served the area.
It has been a two-officer station for several decades.
Police said no Southern sole-charge stations had been disestablished in recent years.
In response to a request under the Official Information Act, Southern police said there were 558 ''constabulary positions'' and 79.3 ''employee positions'' across its 44 stations and one airport base, as at the end of September.
The Southern policing district was restructured last year and, as a result, Mosgiel was included in the Clutha sub-area, reporting to the Balclutha-based senior sergeant.
Last month, Southern district commander Superintendent Andrew Coster said he wanted to explore whether the current structure - Balclutha within the Dunedin-Clutha-Waitaki area - was the ''best fit'' or whether it should come under Southland.
Supt Coster said the Balclutha senior sergeant position had been advertised but the vacancy was withdrawn while police looked at the possibility of realigning the Clutha sub-area.
If Clutha was aligned with Southland, Mosgiel would probably revert to Dunedin.
Last year, the Waitaki policing sub-area was aligned with the Dunedin-Clutha area instead of Otago Rural.
Balclutha sat between Invercargill and Dunedin, so ''logically, it could work with either connection'', Supt Coster said.
He told the Otago Daily Times the possible realignment was ''not even a restructure proposal'' and police were ''floating the idea without putting anything on the table''. However, a proposal could be formed by the end of February.
Police staff had until January 24 to put forward any questions or thoughts on the Balclutha topic, and members of the public were also welcome to send any comments to him.