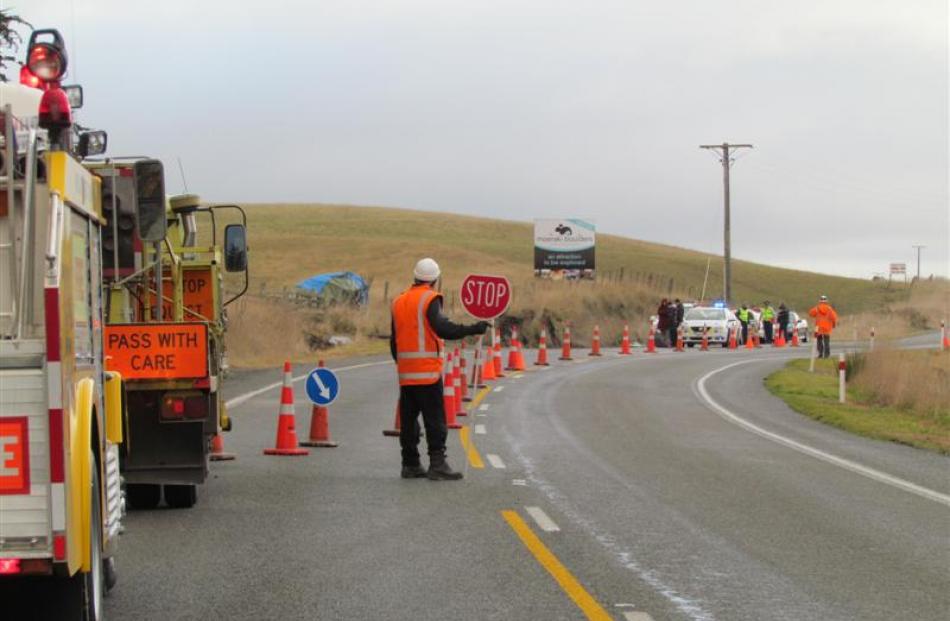 State Highway 1 south of the Moeraki boulders has claimed another victim.
Just before midnight on Thursday, a 27-year-old Oamaru woman was killed when her car left the road on a moderate bend, went over a culvert, through a fence and into a paddock, catching fire.
It was the same bend where a woman received minor injuries after her northbound car went into the ditch and hit a power pole in October 2008.
At 11.50pm on Thursday, a truck driver saw a fire in the paddock, then realised it was a car. He stopped, but could not get near the 1996 Mitsubishi RVR and called emergency services.
Police believe they know the identity of the woman, whose body has been taken to Dunedin for a postmortem and formal identification, but cannot release a name until it has been confirmed.
Senior Constable Wayne Brew, of Hampden, said the woman, the sole occupant of the car, was driving north from the Palmerston area and ran off the road at a bend just south of the Moeraki turn-off.
No other vehicle was involved.
When the truck driver arrived, the vehicle was already well on fire and, because of the heat, he could do nothing.
The Hampden and Palmerston Fire Brigades were called out and quickly doused the fire.
A serious crash investigator was called to the crash to investigate and the woman's death would be referred to the coroner, Mr Brew said.
This is the third fatal crash between the Katiki railway overbridge and the Moeraki Boulders turn-off in two years.
That included one on February 15 this year when a utility driven by a tourist, Jing Cao (32), smashed head-on into an Oamaru family's car, killing Ruby Marris (5) and injuring four of her family.
The other was when a motorcyclist was hit by by another vehicle in October 2013.
The New Zealand Transport Agency's senior safety engineer.
Roy Johnston, said yesterday that section of highway has been identified for potential work as part of the national safety programme that was being accelerated, but no date was given.