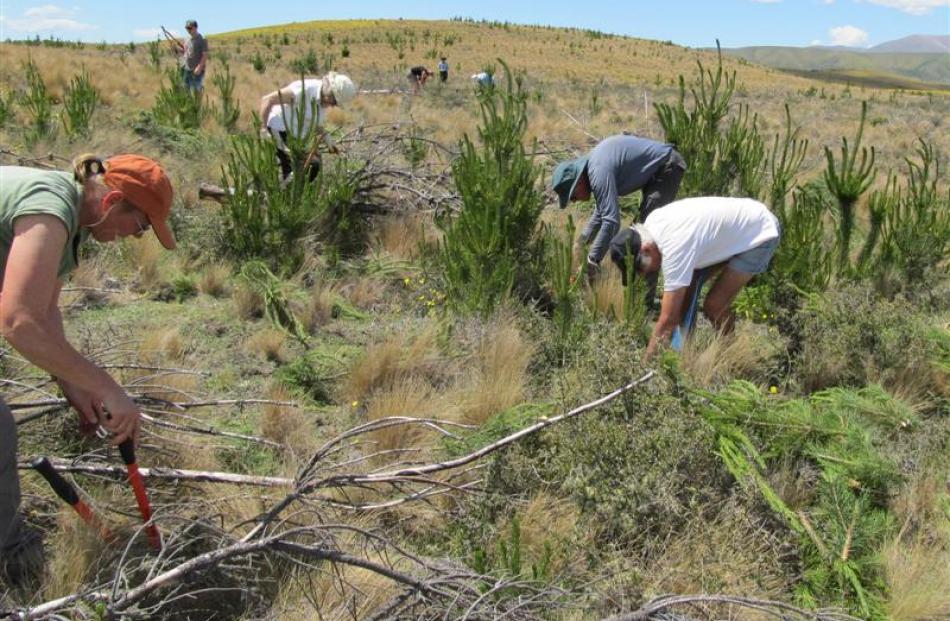 More than 105ha near Twizel has been cleared of wilding pines after a mammoth effort by volunteers and the Department of Conservation last weekend.
Members of the Ohau Conservation Trust, Lindis Conservation Group, Forest and Bird, Timaru over 60s group and Lake Ohau Lodge joined Department of Conservation (Doc) Rangers for two days, removing 3 to 4-year-old pines at the Wairepo Kettleholes Conservation Area.
The department organises the annual event as an opportunity for different volunteer groups to mingle and work on a conservation project.
"Having such a large group of active volunteers tackle the rogue pines makes the physical work a lot of fun and can establish great friendships," the department's threat ranger, Peter Willemse, said.
The Wairepo area was established in 2005, when Glen Eyrie Downs Station completed tenure review. Since then regular sweeps have been made of the area to remove wilding pines.
"We are now starting to see the native vegetation flourishing. Tussocks and small native plants are coping better since the removal of trees," Mr Willemse said.
Located on Quailburn Rd, near Omarama, the area is regularly visited by people hoping to see native birds such as black stilt (kaki), wrybill (ngutu parore), black-fronted tern (tarapirohe) and shoveller duck (kuruwhengi).
The area is made up of moraine and outwash gravels from the Ohau glacier, present more than 10,000 years ago.
Small depressions within these moraines, which sometimes fill up with water, are called kettle holes.