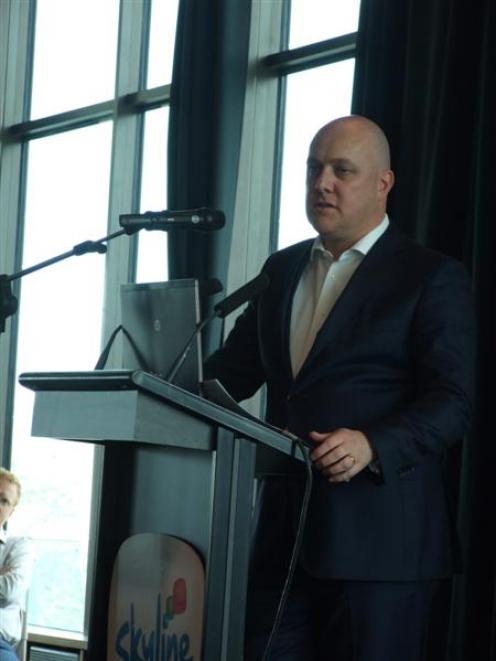 Air New Zealand is considering flying bigger planes into Queenstown to cope with adverse weather conditions and to develop its business in hand with the rapidly expanding airport, the airline's chief executive told the resort's Chamber of Commerce members yesterday.
Christopher Luxon said the challenge for Air New Zealand in Queenstown was to move from the 68-seater ATR planes to ''the aircraft I came down on this morning ... the A320 which has 168-70 seats''.
He said there was demand at present for the 68-seater flights ''with frequency'' but after a winter with a series of cancelled or delayed flights ''would you [rather] have less frequency but a bigger aircraft that gives you more reliability?''This was a question the airline had been discussing with business and community leaders, he said.
He assured those at the noon luncheon the national airline - of which the Government this week sold down a
20% stake - is committed to regional New Zealand and intends to replace smaller aircraft with larger ones.
In the case of Queenstown, this meant moving from the 68-seater planes to 170-seaters.
With the airline committed to domestic flights, Mr Luxon encouraged Queenstown to decide whether it wanted one or two convention centres.
''We're a big supporter of the convention centre [for Queenstown],'' he said, and added there was international and national demand.
With New Zealand lacking a regional rail network, he said people were reliant on regional flights being able to connect them to the country's centres.
''And I think we're pretty well covered because ... New Zealand actually is served by air services to 100% of the towns of 20,000 people or more.
''The next best regional network in the world only does 56% of the towns with 20,000 people or more.''
He trumpeted the growth of the routes between Auckland and Queenstown as well as Wellington and added ''the big opportunity really has been Australia''.
''A big part of the re-authorisation agreement we had with Virgin has meant that we have less constraints and we can actually put more aircraft into Queenstown ...''
As Queenstown residents would no doubt be aware, the town is quickly growing and Mr Luxon illustrated this by saying in 2008 it ''had the same number of domestic passengers as Dunedin''.
Now, Queenstown has shaken off its provincial status and sits behind Auckland, Wellington and Christchurch as New Zealand's fourth-largest airport.
''So you're not a regional provincial centre anymore - you're part of the network of big domestic ports.''