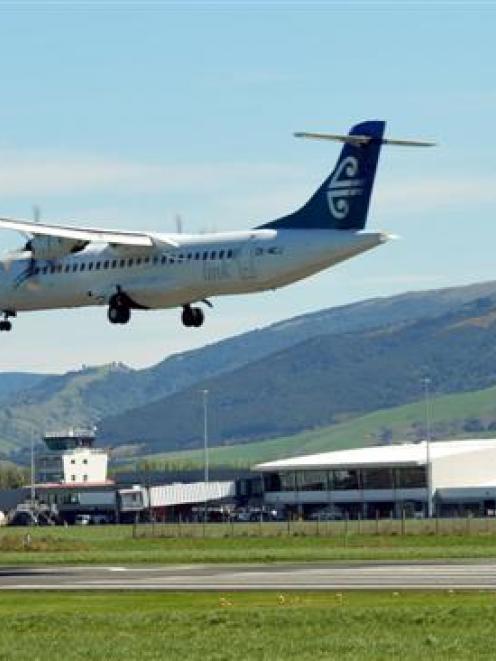 Air New Zealand has returned a direct morning flight from Auckland to Dunedin to its schedule, a small piece of good news for the city's air services and business community.
But the retiming of the flight goes only halfway to returning to the city what it had had.
From next March, the airline will operate an earlier direct return service, departing Auckland at 7.25am and making the return leg from Dunedin at 9.55am.
The flight allows businesspeople to travel to Dunedin early for meetings.
The Otago Chamber of Commerce welcomed the move, but hoped that a direct evening flight from Auckland to Dunedin, allowing Dunedin businesspeople to return from a day in Auckland, might also make a comeback.
The issue has been centre stage since the schedule was changed early this year.
It has raised the ire of business leaders, who have said it made the city appear difficult to access.
The airline said yesterday the recently announced addition of a new Airbus A320 aircraft to its domestic fleet would enable the airline to retime the direct morning service between Dunedin and Auckland once the aircraft joined the fleet early next year.
Air New Zealand networks general manager Richard Thomson said the company had listened to feedback from business travellers in particular, and adjusted its morning schedule to better suit their needs. Dunedin International Airport chief executive John McCall said the Auckland flight had been arriving at 10.40am.
The move was ''a great result for the travel market between Auckland and Dunedin and in particular the business community, which will have more flexibility when planning business trips to and from both cities'', he said.
The airport appreciated Air New Zealand had listened to its customers.
The direct evening flight from Auckland was something the business community wanted to see reinstated, he said.
He was ''encouraged'' by yesterday's announcement and would continue to talk to the airline in the hope that might happen.
Chamber of Commerce chief executive John Christie said the announcement was ''definitely'' good news.
Air New Zealand had said it would restore the services.
''They've done that - or half done it.''
While different people had different needs, he thought the evening flight might be more important to business.
''It's a start, definitely a start,'' he said of the announcement.
Air New Zealand said it would ''continue to work closely with stakeholders in Dunedin to ensure sustainable operations''.