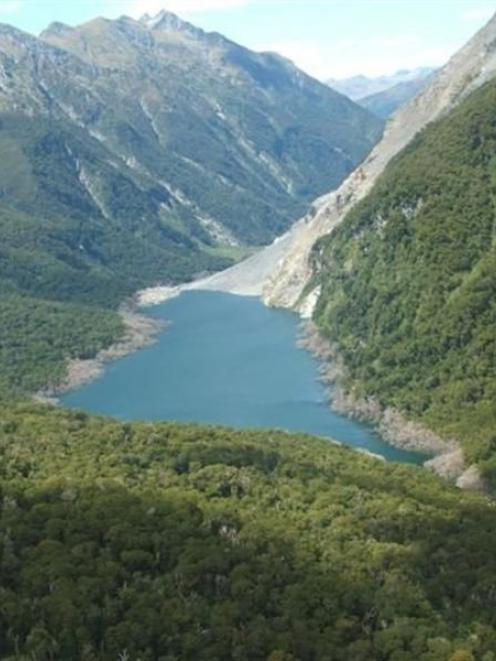 A heavy-rain warning affecting the Otago headwaters has prompted the Department of Conservation to place the Young Valley area in the Mount Aspiring National Park on high alert.
The warning is one step away from a "code red", which bans the public from the valley.
Yesterday, Doc put out high-alert warning signage in nearby visitor centres and at entrances to the Gillespie Pass track near Makarora, where the Young Valley is.
Trampers were advised if they intended to use the valley yesterday or today, not to camp on the valley floor and to move through as quickly as possible.
A landslip dam formed in the Young River in September 2007, creating a lake in the north branch of the valley. The lake is in an area away from the Gillespie Pass track, but is still considered a potential risk to public safety in heavy rain.
The MetService issued a severe-weather warning, forecasting 200mm or more of rain for the Otago headwaters between 9am yesterday and 3pm today.
Doc Wanaka community relations manager Annette Grieve said a high alert, or "code amber", was triggered when the MetService forecast rainfall between 200mm and 300mm, which could be cumulative over 48 hours. A code red is triggered for forecast rainfall of 300mm or more.
The highest recorded level for the Young Valley lake was 582.3m in December 2009. Otago Regional Council water data showed the lake was at 580.135m at 4pm yesterday.
Doc will monitor the situation and depending on the volume of rain received, the alert will be removed or a code-red status activated as per the Young Valley Management Response Plan.
The plan is an accord between Doc, the ORC and the Queenstown Lakes District Council to determine the degree of risk against the level of public access.
"But looking at the extended weather forecast, we don't anticipate it going to a code red. However, we'll have to make that call as things develop," Ms Grieve said.