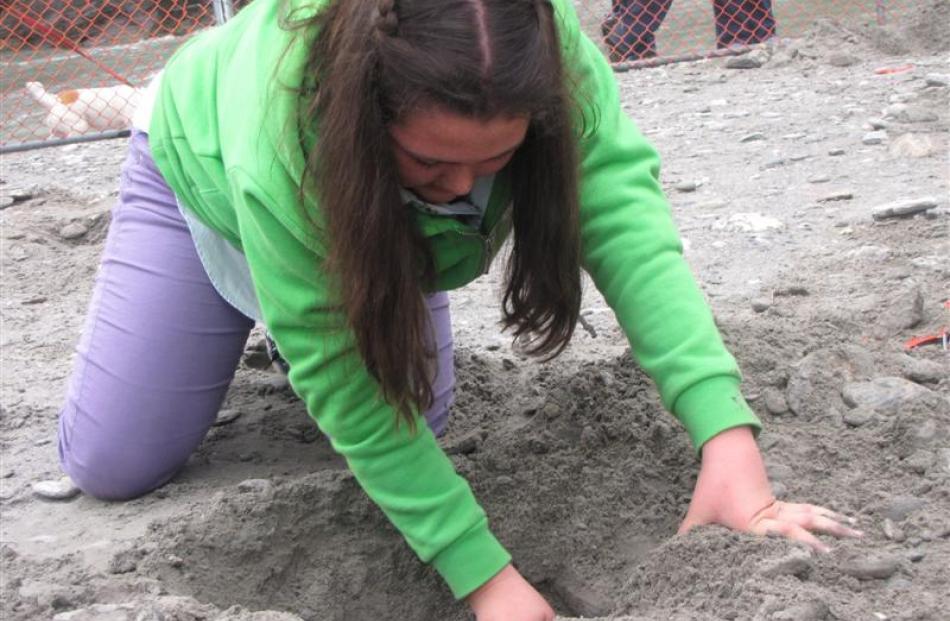 After some fingernail-breaking digging, sand-throwing and rock removal, 11-year-old Andie Gillings' hands were shaking too much to open the drawstring of the muslin bag she unearthed from a deep hole on the banks of the Shotover River on Saturday.
When the Queenstown girl discovered one of the 50 bags buried as part of Shotover Jet's annual Locals' Day she could not open it, so used her teeth to break the string.
Inside was what every child was hoping to find - an ounce of gold worth an estimated $2300.
As Andie screamed, her friends, who were watching nearby, jumped for joy before rushing over to congratulate her.
"This is awesome," Andie exclaimed. "I wasn't supposed to do this - I was coming here for a birthday party."
Her find meant the celebrations for her friend's birthday went up several notches and Andie was champing at the bit to tell her parents, who were not present.
When asked if she intended to give the gold to her friend as a birthday gift, Andie was quick to respond: "No."
Ngai Tahu Tourism sales and marketing manager Nigel Kerr said every child drawn to dig for the gold went home with a prize, with giveaways including trips on the Shotover Jet, T-shirts, squeezy boats and chocolate.
The children, all under 18, had to complete a treasure hunt from clues released on Friday and return their answers to the Station Building in Queenstown by 1pm on Saturday. All correct entries went into the draw to dig for the gold, bought by the company from a gold bullion dealer.
The treasure hunt, and gold dig, was a fitting event in the Wakatipu's sesquicentennial year, as Saturday marked 150 years and one day since Arthur Thomas sneaked away from shearing at William Rees' station to prospect for gold on the Shotover River.
His historic find meant the river would soon become known as one of the richest rivers in the world and gave Arthurs Point its name.
Mr Kerr said the Locals' Day had been a huge success, particularly given the inclement weather.
Residents were lining up at the river from about 7am on Saturday waiting to take a ride on the jet-boats for a heavily reduced fare. Proceeds of Locals' Day will go to the Wakatipu High School.
The amount raised on Saturday will not be revealed until the Shotover Jet Christmas Spectacular on December 2.