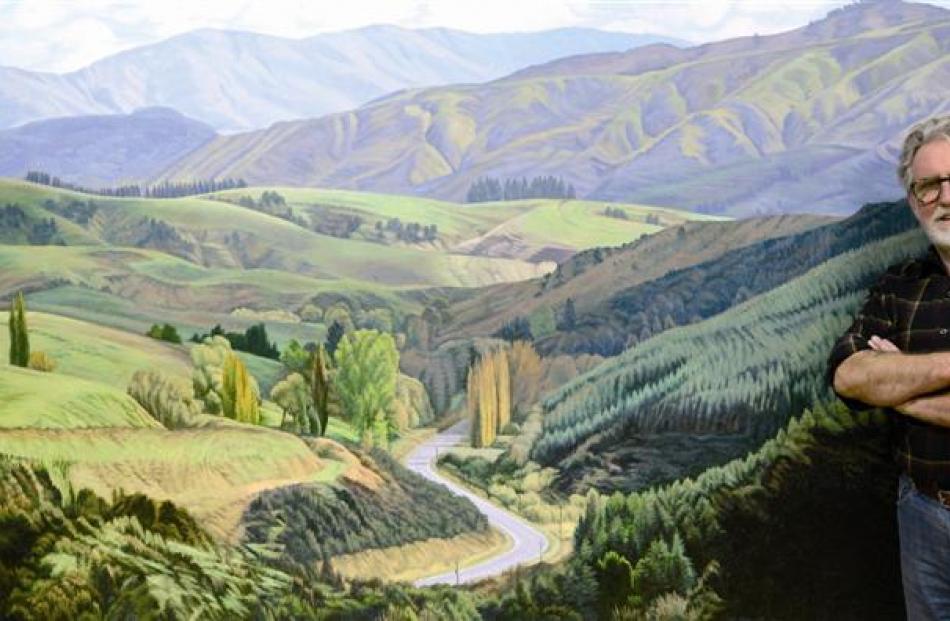 One of New Zealand's best-loved artists is expected to attend a preview of his latest exhibition tonight, then talk about his influential career tomorrow, at Milford Galleries Queenstown.
Dick Frizzell will meet and greet invited guests upstairs in the Church Lane gallery from 5.30pm to 7pm as he launches "Grand Central".
Widely known for his lithograph Mickey to Tiki and for appropriating the Four Square Man, the pop expressionist produced eight original oil on linen landscapes of the Wakatipu and Central Otago for the first time.
The works were all painted this year after the Auckland-based talent's research trip around Easter.
Sunlit Track and Shaded Track depict the Slope Hill Rd area near Lake Hayes.
"Grand Central" opens to the public tomorrow and runs until November 14.
Frizzell will deliver a free floor talk about his latest work and his distinguished career to the public tomorrow at 2.30pm.
The gallery recommended interested people make reservations due to limited space.
Senior art consultant Maurice Watson said this week "Grand Central" would be Frizzell's first exhibition of Central Otago landscapes in the South Island.
"He is a hugely important figure in New Zealand art history and still very active and surging forward," Mr Watson said.
Born in Auckland in 1943, Frizzell studied at the Canterbury School of Fine Arts between 1960 and 1963.
His works are held in all major public, corporate and private collections in the country.
A retrospective exhibition of his work "Dick Frizzell: Portrait of a Serious Artiste" was toured to major national institutions in 1997. His book Dick Frizzell: The Painter was published in 2009.