Wanted: One ''champion'' to establish a Wanaka museum.
That, according Upper Clutha Historical Records Society president Graham Dickson, is the first thing Wanaka needs if it is ever to have what most other towns in Otago have - a museum where local historical material is easily accessible to its residents.
The idea of a museum has been discussed for years and was raised again with the Otago Daily Times by amateur historian Richie Hewitt recently.
Mr Hewitt has devoted many hours to researching and recording the Maori history of the Upper Clutha and his written material fills shelves at the Wanaka Library.
The historical society also uses a room at the library to store its paper and photographic material.
However, Mr Hewitt believes Upper Clutha residents are missing out by not being able to see the artefacts that have been found in the region.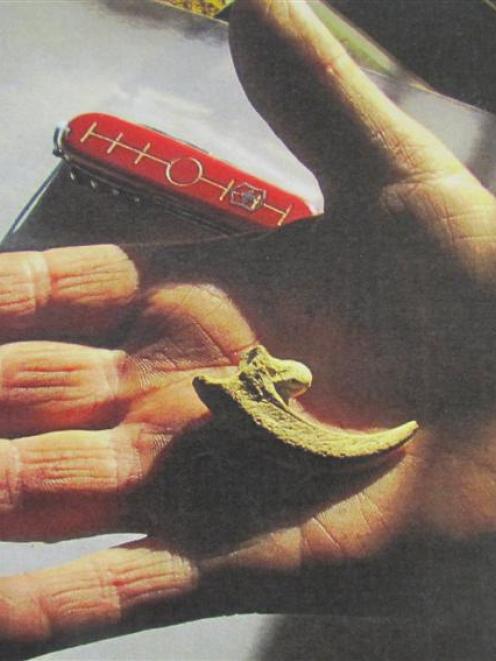 He cited a waka paddle found at Hospital Flat, West Wanaka, and blankets made by Upper Clutha Maori, which are housed at the Otago Museum in Dunedin.
''This is their home,'' Mr Hewitt said indicating Wanaka.
Mr Hewitt was aware of a family with a Maori adze and another with an ''extensive collection'' of Maori artefacts.
He was also aware of a gold nugget with an interesting story behind it that a Wanaka resident was willing to put on display.
While he was building up a photographic record of Upper Clutha artefacts, Mr Hewitt believed that was not enough.
''We need a museum; a place to display them,'' he said.
Wanaka is represented to some degree at the Lakes District Museum in Arrowtown. But Mr Hewitt believed Wanaka artefacts belonged in Wanaka.
''This is their home. They don't belong in Arrowtown. The question would be, do we need a museum here for the repository of items that belong here?''Mr Dickson also believed it would be good for the town to have a museum but the idea had ''never got off the ground''.
A museum would need a venue and a group of volunteers to run it, but there had not been a ''groundswell'' of support.
Mr Dickson believed Wanaka was different from most other Otago towns in that it did not have as long a European history.
''Wanaka is a relatively modern town. There wasn't a town here during the gold mining days.
''It hasn't got that length of history and the artefacts and buildings around, that some of the places have.''
He acknowledged, however, the Upper Clutha's long Maori history and believed a museum might have three themes - early Maori history, high country farming and transport.
Mr Dickson said the society had ''toyed'' with the idea of somehow using the old, wooden police jail in Dunmore St, leased by the Creek Cafe and Bar.
''We have talked but never had anyone with enough energy and enthusiasm to do anything about it.''