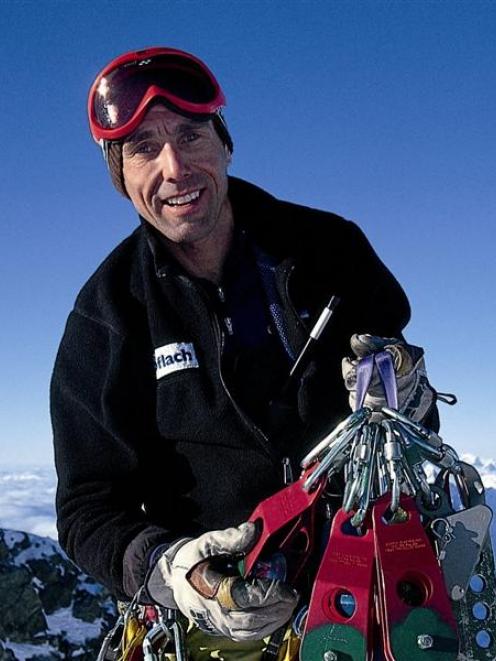 An experienced and accomplished mountaineer was not wearing a helmet when he slipped and fell to his death in Fiordland National Park.
Athol Thomas Whimp (50), of Melbourne, died on February 23 after he slipped while traversing Homer Saddle from Mt Moir, in the Darren Mountains, Otago-Southland coroner, David Crerar said in his report signed November 21.
The cause of death was "multiple traumatic injuries" after he fell "a considerable distance" on to snow, grass and rocks.
"The climbing community has lost an icon," Mr Crerar said.
Mr Whimp, with Matt Evrard and John Sedon, climbers of "significant experience and ability", set off from Camp Dog early on the third day of their trip. It was raining and all were drenched. Terrain was steep and exposed and slabs of rock were wet and running with water.
Mr Whimp followed Mr Evrard who stepped on to mud.
Mr Sedon saw Mr Whimp slip on the mud, on to his back and roll to the left and down the hill. His left foot went out from under him.
Mr Evrard turned around and said he saw Mr Whimp "tumbling off the side of the mountain ... Even at that stage he seemed to be unconscious."
Mr Sedon said Mr Whimp "never made a sound at all; no words came out of him, not even a shout".
The pair used ropes to try to reach Mr Whimp, but they could not see him and called for emergency help.
Mr Whimp was a "very experienced climber and athletic and fit". His clothes, equipment and boots were appropriate. However, Mr Crerar speculated as to whether the outcome of the first slip would have been different had Mr Whimp been wearing a climbing helmet.
The coroner also speculated on whether trekking poles for stability and traction would have helped.
Mr Crerar said he adopted the recommendations of experienced mountain guide Geoff Wayatt, of Wanaka.
Mountain Information Services should continue to provide information on the hazardous nature of many of New Zealand's mountain access routes, particularly in wet conditions.
Climbers wearing heavy packs on exposed access routes had to pay particular attention to their personal safety and specifically ensure their footwear was the most appropriate for the terrain.
Individuals should consider their security by always using two or three point contact when soloing or scrambling.
The use of a belay rope should always be considered when the exposure was great, conditions adverse and the risk of a fall, and death, high.
Helmets provide limited, but useful protection.
"The sport of climbing/mountaineering will never be totally safe," Mr Crerar concluded.
"This is part of its challenge."