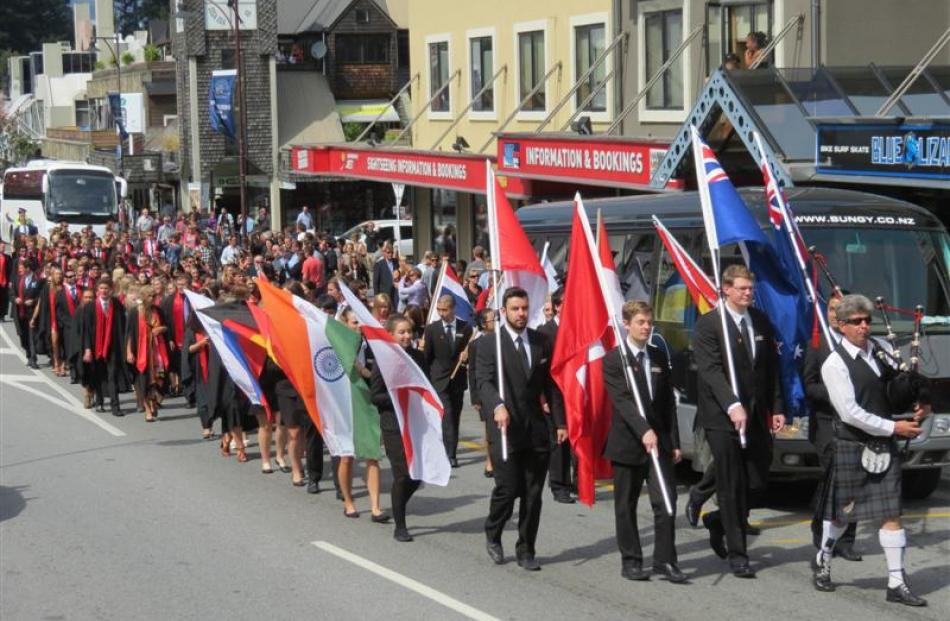 Almost 100 former students returned to the Wakatipu on Friday to attend the Queenstown Resort College's seventh graduation ceremony.
More than 400 proud parents and siblings watched the flag-bearing, piper-led parade from the college to the Queenstown Memorial Centre where certificates were presented to those graduating with a diploma or higher diploma of hospitality management, or a diploma of adventure tourism management.
There were 124 graduates this year. Their studies finished three months ago.
College chairman Sir Eion Edgar welcomed guests including Tertiary Education Commission chairman John Spencer, who gave the graduation address.
Chief executive Charlie Phillips urged graduates to enjoy working in the tourism industry, ''the career of the future''.
Mr Phillips paid tribute to Sue Kelly, who finished her tenure on Friday after joining the college in December 2005, before it officially opened in 2006.
Mrs Kelly, who joins family in Hamilton, was a favourite of students and served many roles, including receptionist, marketing support, librarian and ''camp mother'', Mr Phillips said.