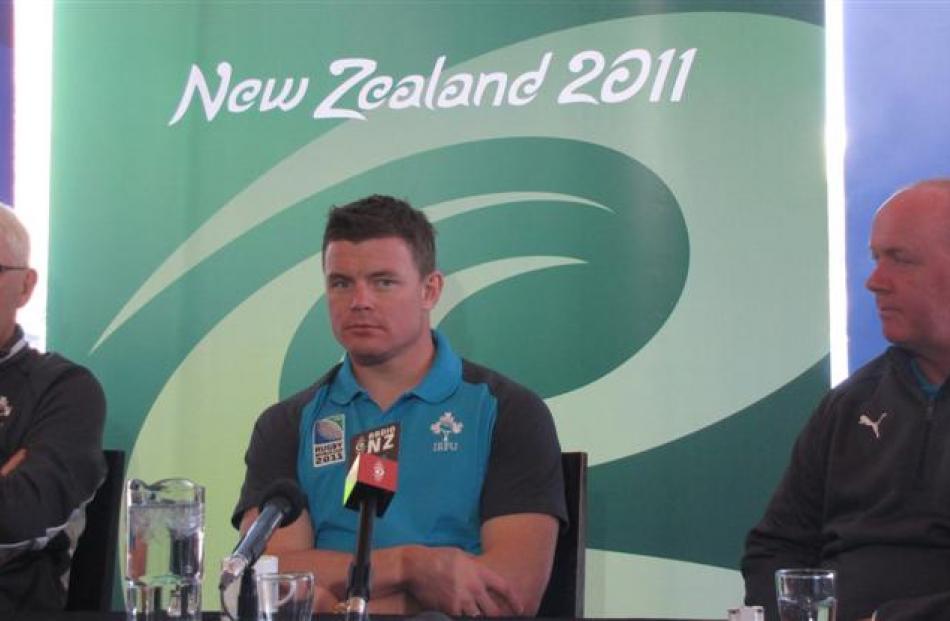 The hard work put in by Lakes Leisure to prepare facilities for the visiting Irish rugby team has paid off, with the Irish Rugby World Cup squad yesterday giving the thumbs-up to facilities at the Queenstown Events Centre.
Captain Brian O'Driscoll said at a press conference the facilities in the resort were "exactly what we would be hoping for".
The squad arrived in the resort on Thursday via Dubai and Sydney to a noisy welcome from hundreds of people, including Irish nationals living in Queenstown and 200 school children from all over the district.
On Thursday night, the team took part in a "quick little spin class" at the Queenstown Events Centre before a 15-minute game of indoor football and a swim. There was a light training session yesterday "running out the two-day travel experience".
"The track we were playing on today, the backdrop was not something you would see too often. It was pretty special," O'Driscoll said.
"It's exactly what we would be hoping for in training to get our preparations right."
While the squad planned on doing some hard work over the next week, there would be no "lock-down" for the team while in Queenstown.
Manager Paul McNaughton said there were a couple of "down days" and the team had already been inquiring about sightseeing in Queenstown.
"The guys want to go out and meet the locals, have a drink ... and have a good time on their down days and [sample] a lot of the activities that are here."
The team's first game is against the United States in New Plymouth on September 11 - a game it would be taking seriously, O'Driscoll said.
"We look at the teams in our pool [and] the obvious [threat] is Australia - they are ranked second or third in the world - but there are no pushover test matches.
"In 2007 we had it hard against a couple of lesser known international nations. We won't be taking anything for granted."
McNaughton said centre Gordon D'Arcy would be arriving in Queenstown on Monday after suffering a calf strain during a recovery session in Ireland.