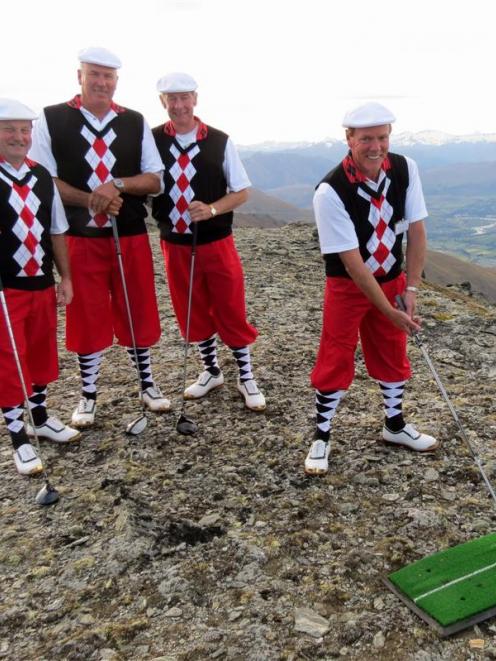 The 2012 The Hills Cure Kids Open near Arrowtown attracted its largest field yet of 94 amateur golfers in 25 teams and raised more than $100,000 - its most yet - for research into life-threatening illnesses.
The two-day charity tournament was hosted for the fifth year by the exclusive golf course owned by entrepreneur Sir Michael Hill.
It involved captains of industry and retail who registered for $1350 each and played for team and individual prizes of more than $20,000.
The winning teams of the tournament were David and Deirdre McAlpine, with Jeff and Virginia Poole, all of Auckland.
The men's individual stableford winner was Rod Duke, of Auckland, while the women's individual stableford winner was Mrs Poole.
Before the second day of fairway trials and tribulations, beneath light showers of rain, golfers were reminded about what the money raised by the open would be used for.
Director of the Gillies McIndoe Research Institute Prof Swee Tan explained how its reconstructive plastic surgery was improving patients' quality of life.
Prof Tan described how, on some infants, strawberry birthmarks grew quickly for nine months, then gradually shrank over 10 years to leave a lump or wrinkled skin which could be removed by laser surgery.
However, he said a strawberry birthmark was really a tumour which could cause blindness and death.
Treatments over the past century were only partially effective and had side-effects.
Cure Kids supported the Wellington institute's research which found a new treatment that, if given to children twice daily, regressed their birthmarks in five months.
Cure Kids ambassador Alex McKay described how not only he and twin sister Lizzie McKay were living with cystic fibrosis, but their parents and elder brother were also affected, spending more time at the twins' bedside in hospitals than at home.
However, despite a "tough" two years, Mr McKay told the audience he and Lizzie were determined to live life to the fullest and had shared a great 21st birthday celebration earlier this year.
The young man, who doctors thought would not live beyond his 16th birthday, said he would soon return for his fourth year of studying law and commerce at the University of Auckland.
He thanked Cure Kids and the golfers for their support.
"We hope one day families won't have to live with cystic fibrosis."