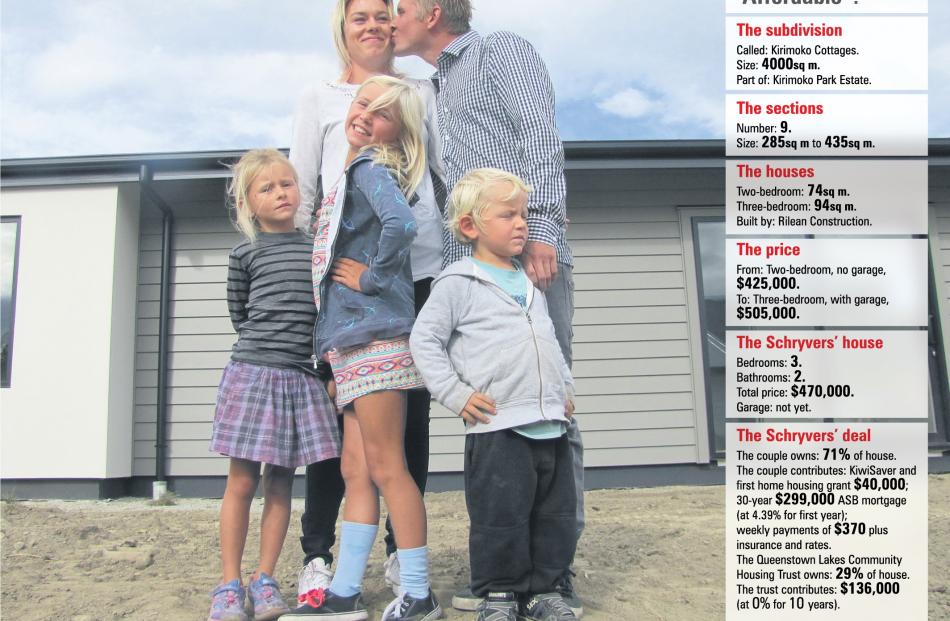 Peter Southwick is a property developer who set out two years ago to build nine "affordable'' homes in Wanaka and, by his own admission, "failed miserably''. Wanaka bureau chief Mark Price spoke to Mr Southwick this week about what he thinks went wrong.
Self-employed Wanaka stonemason Franz Schryvers and his family might get the keys to their new house on Tuesday, or they might have to wait a week or two for the title to come through.
Either way, it is not a big deal for them.
Mr Schryvers has been waiting eight years for the chance to buy an "affordable'' home in Wanaka, and is just delighted his rental payments are about to become mortgage repayments.
"It's really exciting we can own our own home in Wanaka.
"But it is a big step.''
Mr Schryvers is taking advantage of a financial arrangement involving the developers of the new Kirimoko Cottages subdivision, the ASB bank, KiwiSaver and the Queenstown Lakes Community Housing Trust.
In eight months, he and partner Charlotte Findlay have gone from an empty bank account to owning 71% of a new, three-bedroom, two-bathroom home.
Mr Schryvers (31) has been helping build houses for other Wanaka people since he was 19.
He believes without the trust it would have been extremely difficult, if not impossible, for his family to become Wanaka homeowners.
"[The trust] is really good. I don't think a lot of people know about it or about how much it can be useful.''
The trust's object is to provide housing assistance for "low- to moderate-income households who contribute to the social, economic and environmental wellbeing of the district, but are genuinely struggling to commit to the area because of the affordability issue''.
It was set up by the Queenstown Lakes District Council in 2007 but is now independent, with five trustees.
Developer, valuer and committed Christian Peter Southwick is one of those.
When he joined the trust last year, he was already involved with the Kirimoko Cottages project - determined to show affordable homes could be built in Wanaka.
He approached Kirimoko Park Estate subdivision developers John May and Michael Seiler and did a 50-50 deal over a 4000sq m piece of land approved for a childcare centre that had not gone ahead.
As Smart Affordable Homes Ltd, they went to the council with a proposal for 10 sections, but settled for nine.
"We were able to bend the rules a little bit with council to get down to as small as 285sq m'', Mr Southwick said, because the council gave credit for the sections in the other part of the Kirimoko Park Estate being bigger than required.
When he started out two years ago, the property market in Wanaka was not booming as it is now and he described the project as "a bit of a punt''.
Just one house now remains unsold.
While that suggests a successful development, Mr Southwick believes he has failed on "affordability''.
He had hoped the cheapest two-bedroom house could be sold, profitably, for $350,000, but the lowest price he was able to deliver was $425,000.
And that price was achieved only by leaving out a garage.
"It probably shows my lack of knowledge of building costs in this region,'' Mr Southwick said.
He could have saved a further $20,000 by reducing the energy efficiency of the houses, but in the end decided he wanted "comfortable, warm little homes.''
"I set out to build affordable homes, and I think I failed miserably.
"I thought surely I can build a house here for $350,000, and for my cheapest small two-bedroom home to be $425,000, I don't think that's affordable.
"It's a massive job for somebody to get $425,000 together to buy a basic two-bedroom house.''
"$425,000 is a long way from affordable in my book so, yeah, I failed miserably.''
Mr Southwick said he was pleased with the houses and delighted for those who had been able to buy them.
"But there are a lot of people shut out because the price point's just too high, even with help they might be able to get from other sources.''
And Mr Southwick believed houses were even less affordable now than when he started on the project.
"I don't think you can deliver a house and land package in Wanaka, even for a two-bedroom home, for $425,000 today.
"Prices have gone up, construction costs are going up and land prices are rocketing up.''
Mr Southwick blames the council and the Government for a "significant'' part of the problem.
His nine houses required a council development contribution of $200,000, and although buyers of residential houses do not pay GST on the purchase price, he estimated about 8% of the building costs went to cover GST.
Mr Southwick said, if he had his way, affordable homes would be GST-free and council-tax-free.
"When I bought my first home, I didn't have GST, I didn't have council taxes on developers, I didn't have student debt.
"So there are three impositions on the first home buyer that I didn't have 40 years ago.''
As for Mr Schryvers and his family, their priority is to pay off their mortgage and put any other savings into buying the remainder of the house from the trust.''So we will actually own more of our home if we come to sell it.''I can't see it as a bad investment,'' Mr Schryvers said.
The family will be inspecting their new house today and will meet their neighbours in the other eight houses at a barbecue tomorrow.
Mr Southwick said the housing trust had an interest in about 11 houses in Wanaka and a waiting list of about 60 people, but he was aware of more attempts to build "affordable'' homes in the pipeline.