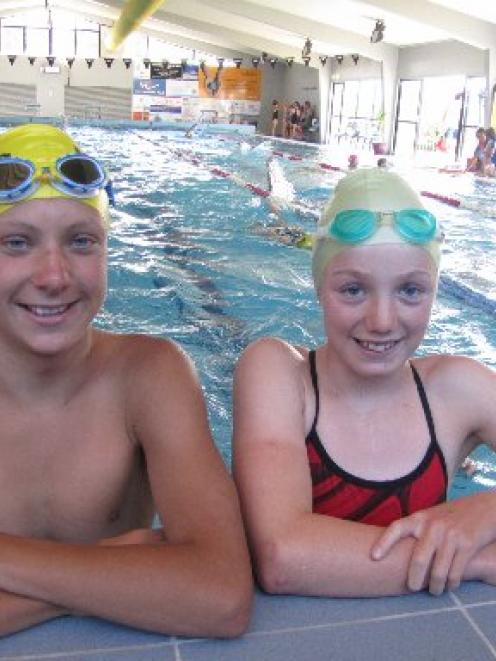 Wanaka swimmers Tane Duncan and Kenzie Findlay are on a mission for personal bests at the Otago championships in Dunedin this month.
The talented teenagers have already qualified for the National Age Group Championships (also known as division 1) to be held in Wellington in March, but hope to qualify for at least two or three more events.
They are coached by Fi Hezinger and are attending the Wanaka Swimming Club's week-long camp, finishing on Wednesday.
"I like just doing the personal bests and especially when I haven't done a personal best for ages. I feel really good. I haven't PBed in a year but I hope to do some PBs at Otago champs," Tane said.
It will be the duo's first foray at national level, although Tane has previously competed at division 2 level.
They have maintained a disciplined focus on their goals ever since qualifying for nationals last year and are now building up the frequency of their weekly training sessions.
"I haven't really had any time off. But I was only swimming twice a week in the winter because I was playing netball," Kenzie said.
While Tane felt a little tired coming into the camp off the back of base training, Kenzie said she was "nervously excited".
"I don't really know what Fi has planned for us but I do know we are going to a competition in Timaru on Saturday [today] and then we get to do two lakes swims.
We have Lake Hayes on Sunday [tomorrow], which is a race, and then the Challenge Wanaka practice day next Wednesday," she said.
Tane will compete in the 16-and-over age group at nationals, after qualifying at the division 2 competition in Rotorua last July in the 100m and 200m breaststroke and 400m individual medley.
He hopes to add the 100m and 200m backstroke and the 200m medley to his national programmes, depending on how things go at the Otago championships.
Tane grew up in Wanaka and has been swimming for six years.
He is a year 12 pupil and because his family is moving to Dunedin this month he will transfer from Mt Aspiring College to Otago Boys' High School and swim for the Neptune club in Dunedin.
He also intends to explore his training options and goals with coach Gennadiy Labara.
The 200m breaststroke event is his favourite, with his personal best in that event about 2min 40sec.
Kenzie qualified for the nationals at two Invercargill meets in November and December for the 50m, 100m and 200m freestyle.
She aiming to bag the 400m freestyle and 50m backstroke at the Otago championships.
Her favourite events are the 50m and 100m freestyle, with her fastest times around 29.77sec and 64.05sec respectively.
Kenzie is a year 9 Mt Aspiring College pupil and has been swimming for three years.