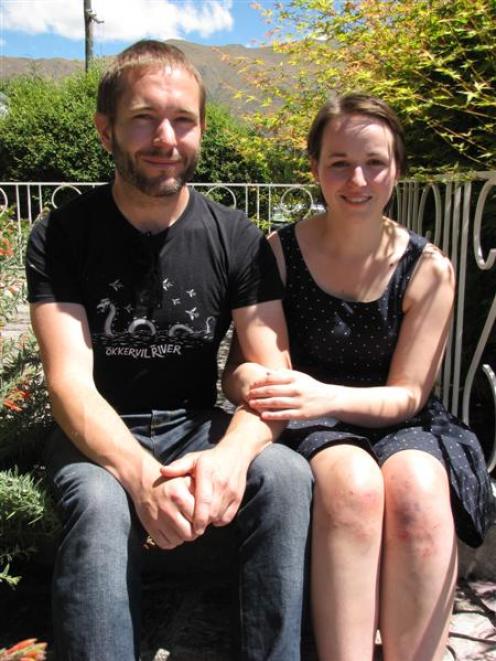 Two Dunedin students rescued from remote bush near Lake Hawea after their two-day tramping trip took a bad turn last weekend say the biggest lesson learned from their ordeal is to always carry a locator beacon in the back country.
''We wouldn't go out again without one,'' Rob Munn (32) said.
He and partner Suszie Tyree (23) were airlifted from the Timaru River Valley on Saturday during a search and rescue operation, and this week were counting their blessings while recuperating at Miss Tyree's family holiday home at Lake Hawea.
The pair, both fit and experienced trampers, set out on Thursday with a friend to complete the Breast Hill Track loop. After failing to make Stodys Hut - their intended destination for day one - they stayed at Pakituhi Hut below the Breast Hill summit, instead. The delay prompted their friend to push on ahead the next day.
''He was supposed to be meeting his mother for dinner,'' Miss Tyree said.
The couple headed down the Timaru River Valley where the river remained high, despite several days passing since heavy rain in the area. They had expected two river crossings based on earlier checks of topographical maps, but nine hours into what should have been a six-hour trek to the Timaru River car park, they had crossed the river more than 20 times.
They were anxious to get home to Miss Tyree's mother Sandra, whose father, former Logan Park High School principal Arch Wilson, was killed during an ascent of Mt Aspiring 33 years ago. Mr Wilson's body was never found.
''I knew my mum would be worried if we didn't get back so we probably pushed ... a bit harder than we should have,'' Miss Tyree said.
The turning point came when Miss Tyree lost her footing and was swept downstream during a crossing, banging her knees on the river bed.
''It just really drove home ... that even really normally benign tracks can turn into quite dangerous ones quite rapidly, especially in river valleys,'' Mr Munn said.
Already fatigued and with Miss Tyree injured and shaken, the couple chose to hunker down for the night. Although well-equipped with warm gear and enough provisions for three days, they had no cellphone coverage to alert anyone to their predicament.
They tied a red bag to a rock to attract rescuers and were eventually picked up by helicopter shortly after the alarm was raised by Miss Tyree's distressed mother the following day.
''A serious injury can happen to anyone, any time, and having a way to alert the SAR guys straight away would have been really good,'' Mr Munn said.
''Even if you're well-equipped and well-experienced, you can still get into trouble and an Epirb [emergency position-indicating radio beacon] is really valuable to have.''