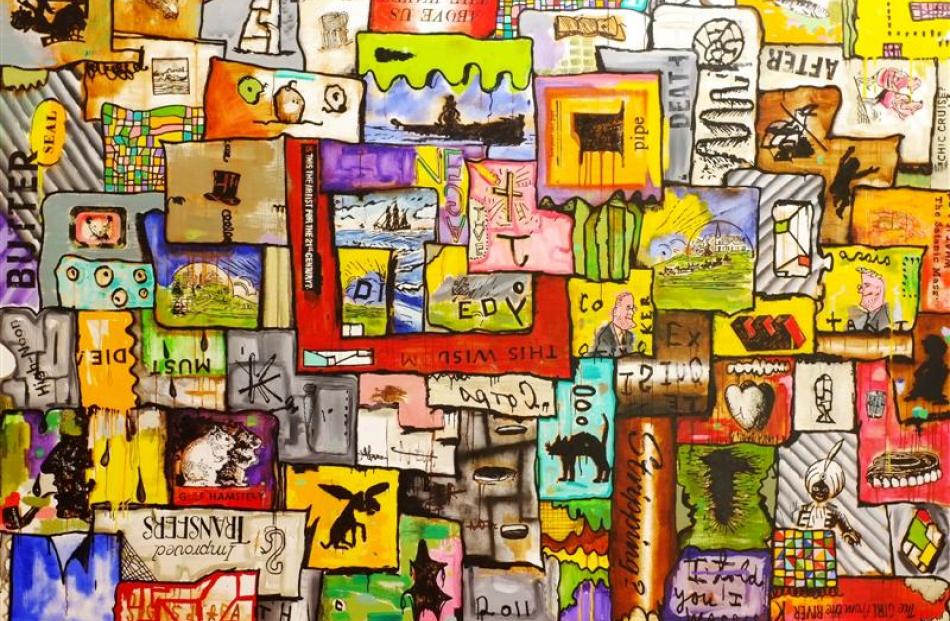 The past and present of a leading contemporary New Zealand artist is will be exhibited at the Nadene Milne Gallery, Arrowtown, from Friday.
Martin Poppelwell, of Napier, presents in person two of his acclaimed patchwork paintings and ceramic works from his Swipe series.
The patchwork paintings are described by the gallery as ''personal libraries'' which bring together a vast amount of material the artist has collected over the years, including lists, literature, poetry, references to other art works and advertising layouts.
The ceramic Swipe pieces are beautifully rendered white pieces with dramatic swipe of black.
''The swipe is drawn evidence of a shift through space, the pottery acts as the tangible record, fixed permanently with fire,'' the gallery said.
The show will be accompanied by an exhibition including images and writings on the work as well as an overview of the artist's practice.
Poppelwell has been an artist for more than 20 years.
His work can be found in public and private collections, and has been included in several public gallery shows including ''Collecting Contemporary'' at Te Papa Tongerewa in 2011.
He came to ceramics as a visual artist interested in making objects which could feed into a contemporary art conversation, the gallery said.
''Pottery opened up an entirely new avenue of investigation, where he could integrate function with aesthetic while connecting with people through his often text-based work."
Beyond painting and pottery, he is also a print-maker, drawer and sculptor and has worked with linen, fashion, carpet, wine labels and wallpaper.
• ''Martin Poppelwell: Kiss the Moon'' opens at Nadene Milne Gallery on Friday at 7pm and continues until January 5.