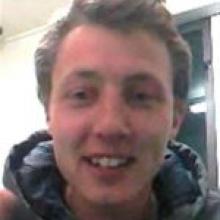 Missing German kayaker Rene Weisswange (25) was preparing to leave Lake Hawea to continue travelling around New Zealand when he failed to return from a kayaking and fishing trip last week, his employer says.
The search for Mr Weisswange will be further scaled down today, after several days of intensive searching of Lake Hawea and its shoreline by air, boat and on foot.
Mr Weisswange, of Markranstadt, Germany, recently began working at the Lake Hawea Hotel as a chef. Lake Hawea Hotel co-owner Mike Smith said yesterday Mr Weisswange had lived at the hotel for the first six weeks after his arrival in Lake Hawea, before moving into a flat.
"He was a very very likeable person. He was part of the team," Mr Smith said.
Staff at the hotel were having a difficult time coping with Mr Weisswange's disappearance.
Mr Weisswange's family was contacted in Germany on Thursday night. His brother Danny said in an email to the Otago Daily Times the family had been speaking to Wanaka police and the German embassy in Wellington.
Mr Weisswange went kayaking on Monday last week.
Police were informed Mr Weisswange was missing on Wednesday morning, after he failed to turn up to work on Tuesday night.
A team of searchers, using a helicopter and boats, found his kayak washed up on the beach below the village about 1pm on Wednesday. His paddle was found about 600m further east along the beach. It is believed Mr Weisswange was not wearing a life jacket.