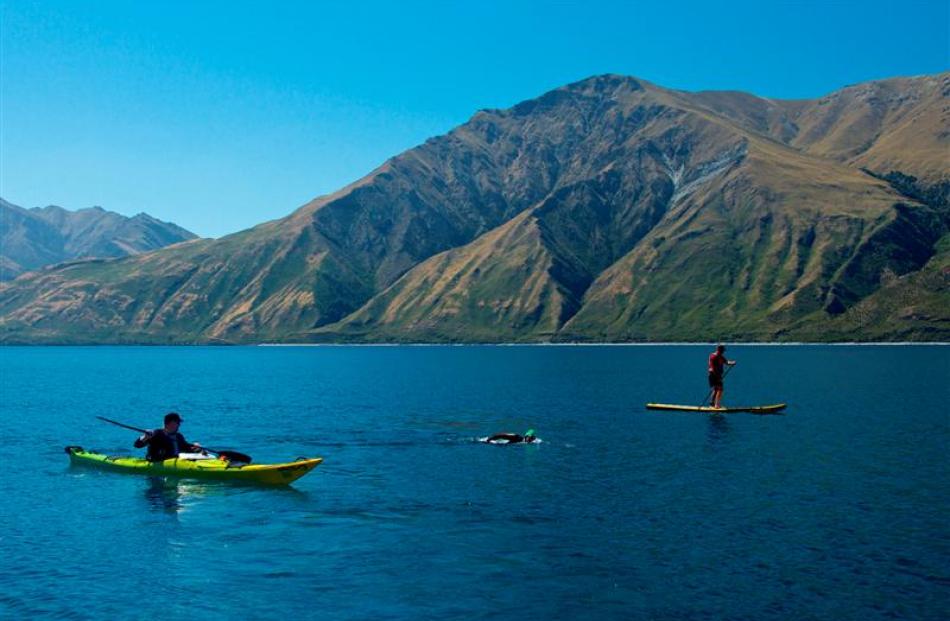 Self-described ''have a go'' open water swimmer Roger North is not ruling out a second attempt at the first solo swim of the length of Lake Wanaka after coming close to completing the feat this week.
The Wanaka local managed about 35km of the 45km swim, before cold got the better of him.
Nearly 14 hours after setting out from the head of the lake at Makarora around 6.30am on Tuesday, Mr North (47) was forced to call it quits on his huge personal challenge, for which he had clocked up 1400km of swim training over the past 10 months.
''I could see the lights of part of Wanaka in the distance ... [but] it was dark, there was a headwind and I got too cold.''
An ''unexpected current'' he discovered well into the swim also slowed his pace.
''All the factors were conspiring against me and I made the right call.''
Although weather conditions were ''quite warm and friendly'' for a large part of the day, the water temperature did not rise above 14.5degC and caused his jaw and hands to lock early on.
''I could only kind of blur words out. My jaw was superglued ... my neoprene gloves were like hand weights for about 10km.''
Mr North is a member of the Wanaka Lake Swimmers Club and has completed Challenge Wanaka's 3.8km swim leg six times. He worked with a swim coach and nutritionist in the build-up to Tuesday's event - which was ''such a natural thing to try and achieve when the lake's staring you in the face every day of the year'', he said.
''In response to the millionth mid-life crisis, I decided to give it a crack.''
He was humbled by the ''scores'' of supporters who fed him at regular intervals, monitored his progress and cheered him on, from boats, kayaks, paddle boards and while swimming in the water alongside him.
''I'd have a list as long as my arm to thank over the next couple of days ... it felt like half the town was out, only [for me] to fail - but they don't see it that way.
''I gave it everything I've got. I've done more than the Cook Strait now and more than the English Channel.''
Despite feeling ''really good'' yesterday and up to another swim, he was unsure whether the 45km distance would beckon again.
''The actual event was fun but the anxiety leading up to it and becoming one-dimensional for the last couple of months ... part of me really wants to knock it off, but the jury's out.''
New Zealand's longest lake swim was in February 2012 when a hypothermic Ben Campbell-MacDonald, of Wellington, swam the 80km length of Lake Wakatipu.