Seven months after opening her own studio, Queenstown photographer Jackie Gay, of Still Vision, says she has been overwhelmed by the support from the community.
As a way to reciprocate, she has thrown her support behind a competition, open to all married couples in the Wakatipu, which will give the winners the chance to "re-celebrate" their wedding.
In conjunction with Collective Hair Design and Nemo Workroom, the winning couple will travel to a location in their bridal wear to have more wedding shots taken by Gay.
"There are so many weddings being booked at the moment - I have inquiries coming in right through to 2013," she said.
"Now that I'm starting to specialise in wedding photography it's amazing how many stories come up.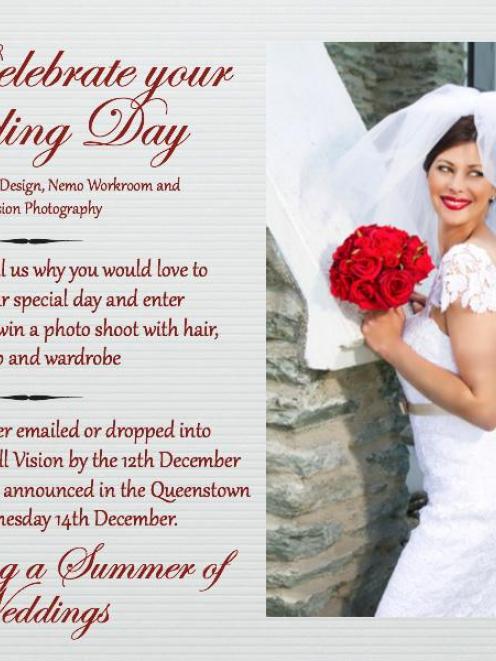 "You hear some really awful stories from people. I thought, we're giving people this opportunity all the time [to have great memories from their day], why don't we give someone local the opportunity to re-celebrate their wedding in Queenstown?
"It's not about people in our profession who didn't do their jobs."
She said something as simple as rain which forced the cancellation of a planned helicopter trip to a scenic location, or natural disasters such as the Christchurch earthquakes or the Chilean ash cloud had wrecked havoc on wedding plans.
"We want to hear about it."
Involved in all aspects of photography, Gay said her wedding work had a distinct "documentary style" - with a focus on "capturing the true moments, rather than creating them".
"I feel if I get into it and try and create it ... it's an image; it's not a moment that happened," she said.
"Weddings are so full of moments - even if it's just mum seeing her daughter come out in the dress for the first time.
"The best moment is when he [the groom] sees her [the bride] walking down the aisle, that's what I class as documentary style ... I prefer to just kick back and focus on finding the moments."