Film-makers Jeanie Ackley and Carl McNeil moved to Albert Town from Dunedin over six years ago, eager to spend every available minute in the outdoors making fly-fishing films or travelling.
"We left Dunedin, quit our jobs - and then I got pregnant! We were going to make these fly-fishing films, play, go travelling a lot. But then I thought 'Oh! I will have to spent more time around Albert Town.' So we have been making films a little more slowly," Ms Ackley said.
Now their daughter Jessie is 4 years old and the couple have finished five films.
Their first, Once in a Blue Moon, was released in 2009 and went on to win various awards.
Their fifth, Itu's Bones, will premier on Cook Island TV this month.
The film has been accepted to feature in the Blue Ocean Film Festival in Monterey and has reached the final round of judging.
The couple have also been invited to enter the film in the prestigious Raindance Film Festival in the UK.
Ms Ackley (47) is a marine biologist and worked for 19 years for Natural History NZ in Dunedin as a camerawoman, assistant producer and scriptwriter.
Mr McNeil (45) has a background in information technology, worked in sales and marketing for TVNZ and is a "very, very keen" fly fisherman who writes about and teaches the sport.
It seemed a natural thing to pool their talents and create their own film company, On The Fly Productions.
Mr McNeil and close friend Earl Kingi, an award-winning Dunedin cameraman, had already started talking about making fly-fishing films more than eight years ago.
They had noticed a boom in the outdoor film industry, particularly with the advent of snow-sports films, and after watching a lot of fly-fishing DVDs, they decided they could do better.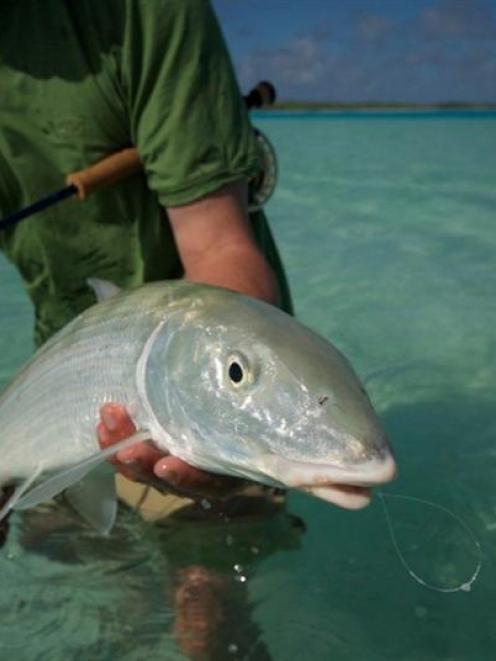 "Once in a Blue Moon to date is the second-most-popular fishing film of all time. It was all done in Fiordland in native bush. It is second to A River Runs Through It, which was directed by Robert Redford and starred Brad Pitt, so we are happy with that," Mr McNeil said.
The back story of how Itu's Bones came to be is a long one.
Mr McNeil and Mr Kingi decided to take "their girls" on a holiday to the Cook Islands several years ago, but it nearly ended in tears for the men because they could not catch a single bonefish on the fly, while the locals were easily netting them for food.
The bonefishing industry became a subject of conservation debate in the Cook Islands and, after following the story for a few years, Mr McNeil - a certified master casting instructor with the US Federation of Fly Fishing - returned with Mr Kingi and they taught the star of Itu's Bones, expert net fisherman Itu Davey (30), to fly fish.
The Ministry of Marine Resources in the Cook Islands has now created a 700ha bonefish reserve at Aitutaki and Mr Davey has made such a successful transition from net fisherman to fly-casting catch-and-release tourist operator that he now owns two boats and employs four people, and his children have a vision for their future.
Mr McNeil and Ms Ackley are proud of their documentary, which was primarily filmed by Mr Kingi, and the positive impact it has had for Aitutaki people.
Mr McNeil was also in awe of Mr Davey, who he described as very talented and knowledgeable about bonefish behaviour.
The project was self-funded and would not have been possible without the support of the ministry and local businesses, they said.
"We always thought this would be our philanthropic film, to give back. It really was a serendipitous thing," Mr McNeil said.
The couple's next projects include launching a tackle company later this year and making more fly-fishing instruction DVDs for the US market.
Then Ms Ackley wants to make a "seminal film on trout behaviour".