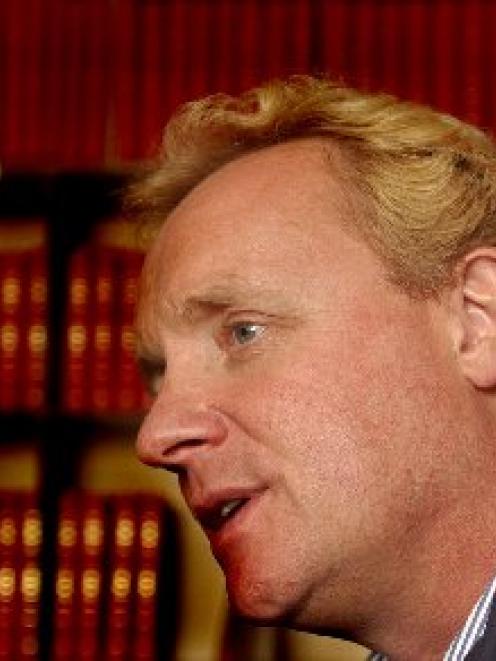 The memories of August's disastrous flooding in Pakistan remain fresh for Gibbston Valley-born Alastair "Cookie" Cook, as he tells Miranda Spary in a series of recent emails ...
The bare statistics make the grimmest reading: 20 million people affected; nearly 2000 deaths; one-fifth of Pakistan's total land area flooded; damage, an estimated $US43 billion ($NZ54 billion) and still counting.
By any scale, that is a disaster of enormous magnitude, and thrust right into the heart of the turmoil was Wakatipu-born Alastair Cook in his role as logistics officer for the World Food Programme (WFP).
For seven weeks, "Cookie", as he is better known, helped organise and supervise the distribution of more than 150,000 tonnes of food.
It all began when he arrived in Pakistan on August 25, seeing for himself the devastation caused by weeks of endless rain.
June, July and August is the monsoon season and usually it is a refreshing time, when the much-needed rains set farmers up for the coming year.
However, 2010 saw the monsoons flood and devastate an area of more than 300,000sq km.
New Zealand's total land area is 268,680sq km.
The day after his arrival, he woke at 6am to the sound of heavy rain as the monsoon continued to pump enormous volumes into the already bloated and overflowing river systems that drain into the Indus River.
A beefed-up Landcruiser took him to Ghazi air base.
The vehicle weighed more than four tonnes, with all its armourplating and bulletproof glass, but it did not make him feel safe.
Then there was a ride in a Sea Stallion helicopter up to the Swat Valley with five tonnes of food and a few well-armed Pakistani soldiers.
From the helicopter to another army vehicle, driven at high speed with the driver holding the horn down most of the way.
Strategically placed guards stopped the traffic at all intersections so that his journey could be as rapid as possible through a busy market town.
Meetings were about logistics and cricket.
"Cookie" shares the same name as England's opening batsman, and this coincidence could make things happen faster when they thought he was the famous cricketer, but slowed things down when they wanted to discuss cricket.
The logistics of the mission were terrifying. Feeding such numbers was not an exercise for the fainthearted.
Not only was getting the food into Pakistan a huge job, but so was storing it safely (they lost an enormous amount of their stock in the floods), distributing it fast and fairly, and making sure the transport was functioning.
And, to make matters worse, there was a $60 million shortfall between what this mission cost and what was in the kitty.
The food was horribly basic. Wheat flour, vegetables and high-energy biscuits.
Cookie found it hard to keep calm when there were complaints about the rations.
The flour was from America, the wrong sort for making local bread, which was a big problem.
Special rations for children were fortified peanut butter and the ration for a family was only just enough to keep them alive.
Cookie's schedule was gruelling, with 5am starts most days.
It was Ramadan, which meant no food or drink from sunrise to sunset, about 14 hours.
He kept a few dried apricots in his pockets for times of desperation and occasionally took a furtive swig from his water bottle.
Often the helicopters were loaded with produce for the return trip.
Because so many bridges and roads were swept away in the floods, the local farmers could not get their food to the market, so the army bought it for their own use.
Every morning began with Muslim prayers and a briefing session - weather, food stocks, fuel supplies.
They moved up to 28 tonnes of food a day in the Swat Valley, mostly WFP supplies, but also some privately donated stock as well - such luxuries as sugar, matches, even prayer mats and generators.
And then it was decided Cookie should be sent south, to where the real problems were.
The main problem in the north was accessibility but the Punjab and Sindh provinces in the south are very flat and overpopulated.
Hyderabad is only 40m above sea level but 200km from the sea, so the flood waters receded at an infuriatingly leisurely pace.
Huge areas of trapped water remained across farmland and made ideal breeding grounds for mosquitoes, a recipe for more disease and trouble.
Any attempt to sort out the problems was Herculean.
Cookie tells of walking into one of the 7400sq m hangars (that's nearly two acres!) and seeing one little old man sweeping the floor with a broom of just a few reeds attached to a stick.
There were five of these hangars and Cookie didn't know whether to be depressed or inspired by the man's willingness to keep working despite the enormity of the task ahead.
Hyderabad was a total mess and functioned in a constant state of chaos.
There were more flies than it is possible to imagine.
It was humid, dusty, dirty and grim, and because of the security requirements and no-alcohol rules, there was no after-work relaxation.
From there, Cookie was sent to Multan, one of the nicer and more moderate cities in Pakistan.
Then, seven weeks, 398 bananas, 188 power cuts and zero days off later, his work was over and he headed home to Rome for a beer and a little down time.
At the time this story - a summary of Cookie's emails and diary items from his time in Pakistan - was written, he was in Syria, from where he sent this latest message:"Pakistan is a country facing many challenges.
It is located on a highly active earthquake zone, conflict either internally or externally is always a concern and, obviously, flooding is a major worry.
"WFP's response was quite incredible by feeding more than 10 million people in the first eight weeks.
"To do this required over 150,000 tonnes of food of varying commodities to be purchased and shipped from all over the world, trucked to storage facilities, many of which were custom built for this response, and then trucked or flown to the populations in most need.
"Additionally, staff to manage all of this arrived from all over the world, along with the many Pakistanis.
"This all happened at very short notice and they were required to live and work in very dangerous conditions.
"Personally, I enjoy these situations. The days are long and there is no time for one's self but the satisfaction of developing a team to solve the immediate issues in such challenging conditions is hugely rewarding.
"Trouble follows Pakistan around like a faithful dog so I expect that in the not too distant future I shall be required to return to this amazing country, with its wonderful people, for another emergency response in some form or another."