Much of the Clutha River will no longer be in the Clutha-Southland electorate under draft electorate boundary changes released yesterday.
The changes propose a major redrawing of the southern electoral map which would divide Clutha between three electorates - Dunedin South, Invercargill and Clutha-Southland.
Clutha District mayor Bryan Cadogan said they represented the single most dramatic change to the political landscape in his lifetime.
''There are huge political implications here ... They will need to change the name of Dunedin South to Greater Clutha,'' he said.
''For us to be split three ways is unnerving and unexpected and I'm still thinking through what the implications might be.''
Clutha was a defined, cohesive district and being carved up could threaten that sense of identity, Mr Cadogan said.
The Dunedin seats have also had a major revamp. Dunedin North's border now starts near Waikouaiti, extends down as far as Andersons Bay Rd and takes in the Otago Peninsula.
Dunedin South, in turn, becomes a more southern seat, taking in all of South Otago, down as far as Kaka Point, and almost as far west as Raes Junction.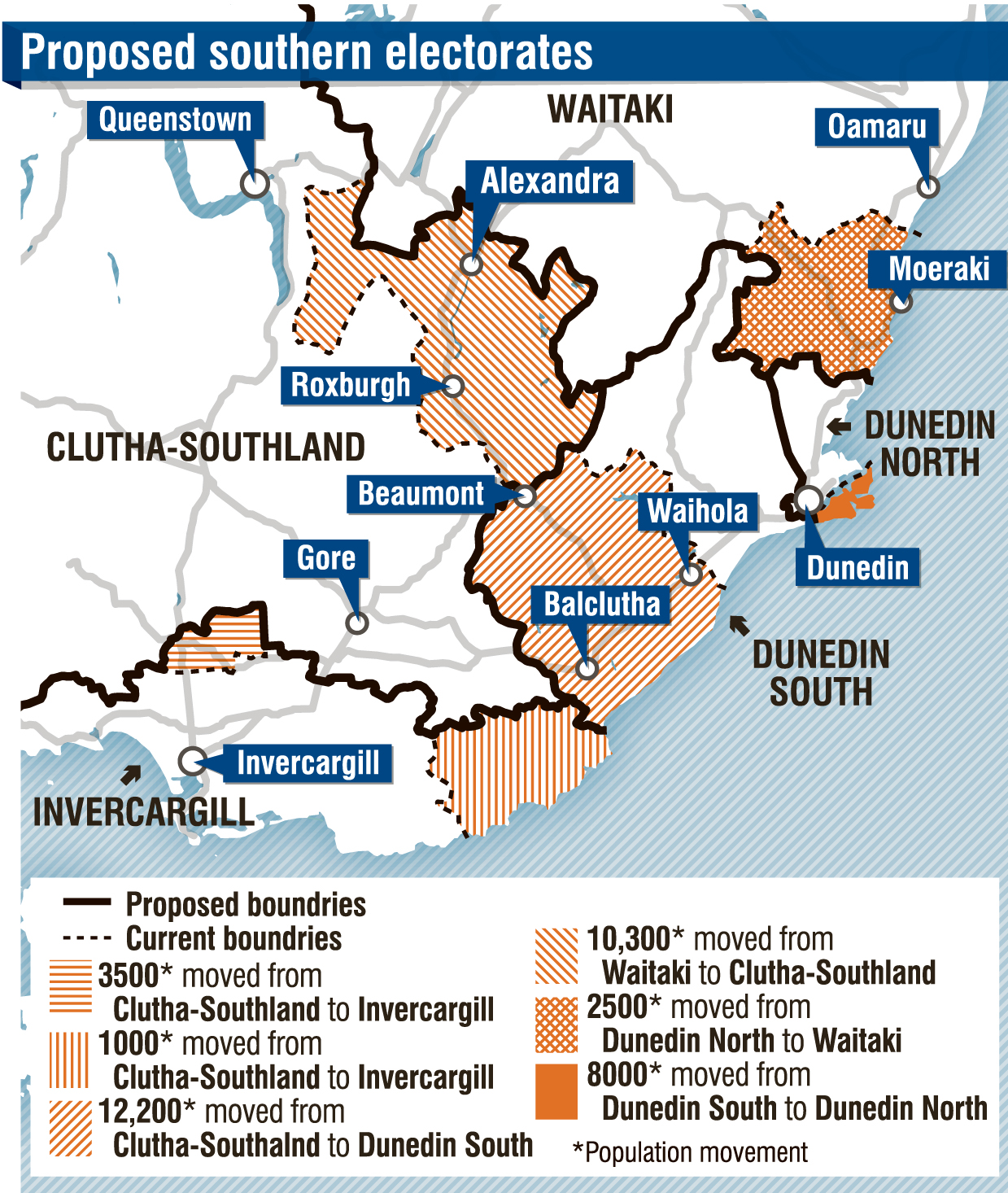 That redrawing would result in several rural polling booths which traditionally favour National now being counted in Dunedin South, a Labour stronghold.
The Peninsula becoming part of Dunedin North would take away from the southern city seat some booths which traditionally voted Labour.
The proposed border between north and south, down the centre of Andersons Bay Road, would keep the highest polling booth in Dunedin South in 2017, sited opposite the Countdown supermarket, and its 818 majority for Labour, in Dunedin South.
In 2017 Clare Curran held Dunedin South for Labour by 8717, and Labour won the party vote by a majority of 5019.
While Labour will field a new candidate in 2020, as Ms Curran is retiring, that majority still looks too large for National to overhaul.
The party vote may be a different story, however. While Labour's party vote majority in 2017 was substantial, National won the party vote in Dunedin South in both 2014 and 2011.
Other major changes in the south include Clutha-Southland gaining Alexandra and Clyde from Waitaki, and Invercargill gaining Winton and the Catlins from Clutha-Southland.
Population growth has prompted the commission to recommend a new Auckland seat, called Flat Bush, taking in parts of the Hunua, Manurewa and Papakura electorates.
''Boundary changes are needed to electorates in the Christchurch area because of significant population growth in Selwyn, which is the fastest growing electorate in the country,'' commission chairman Judge Craig Thompson said.
Electorate boundaries will be confirmed next April, after public consultation and an objections period.