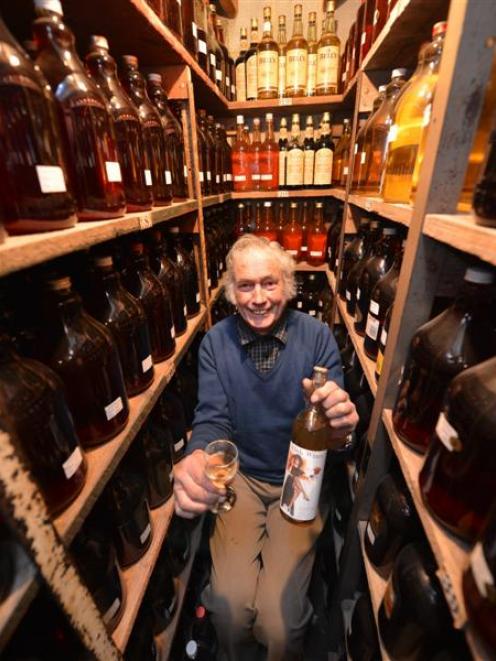 A Milton man is facing an unusual dilemma - what to do with 2700 litres of home-made wine.
Colin Weatherall (69), who has been making his own wine for 40 years, has been forced to step back from his hobby after running out of storage space.
Bottles of all shapes and sizes line the walls of his humble shed and, inside the cellar, wines range in hue and flavour.
Beetroot, pumpkin and rose-petal may not be the first flavours to spring to mind when considering wine, but Mr Weatherall is keen to make almost any fruit, flower or vegetable into a wine.
His oldest unblended wine is a 1976 crab-apple, which he admits may not tempt everyone's tastebuds.
"I like the crab-apple, but not everyone does."
Other wines range from grape, to stone-fruits, rhubarb and elderberry.
"I could make wine from grass but I wouldn't recommend it."
Elderberry wine remains his favourite, despite a love of harvesting grapes for many years from a vine which runs along the side of his house.
Mr Weatherall began brewing beer in an old aluminium boiler in the late 1960s, only venturing into wine-making at the suggestion of his brother-in-law.
In 1972, he made his first batch of hawthorn wine after buying a book on wine-making, and from there the hobby blossomed.
Since retiring from his job as a spinner at the nearby Alliance Textiles woollen mill (as it was then) in the 1990s, Mr Weatherall has had more time to dedicate to wine-making.
His wine stocks soon grew to 2700 litres - 700 litres of elderberry, 540 of red wine, 280 plum, 195 apple, and the remaining 1000 litres vary from rose-petal, pumpkin, beetroot, rhubarb, and crab-apple. All these bottles are crammed into a cellar about 2m wide and 2.7m long, on shelves lining the walls and middle of the room.
Simple labels state the type of wine, with special handmade labels featuring drawings of old-fashioned style "pin-up women" reserved for "club wines".
"I've now run out of room. If I drink a bottle of wine a day, I might be able to finish them all in about 10 years."
As for his grapevine, Mr Weatherall said he would probably have to eat the grapes from now on.